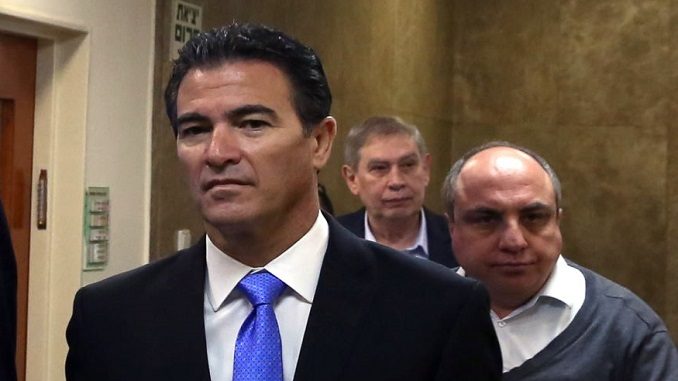 The head of the Mossad intelligence service warned on Monday that Iran, through its proxies, is operating closer "than ever before" to Israel's borders with Lebanon and Syria, though he also said Israel was operating deep in enemy territory, Times of Israel reports.
Spy chief Yossi Cohen said that in addition to arming the terrorist groups Hezbollah and Hamas, the Islamic Republic was working to develop its own nuclear capabilities with the goal of weaponizing them. According to Cohen, the intelligence service "carries out hundreds, thousands of activities every year — some of them complicated and deep within the heart of enemy countries."
He said his intelligence service is "focused only on the top national, security and political priorities." First on that list is Iran, according to Cohen.
"Tehran "continues with its vision of [obtaining] a significant nuclear capability, which is meant to lead it to a military nuclear capability," he said.
Under the 2015 Iran deal, the Islamic Republic is permitted to continue with civilian nuclear research, which uses radioactive material that has been enriched to a much lower degree than that used for military purposes. In his speech, Cohen did not allege that Iran was violating the 2015 deal, known as the Joint Comprehensive Plan of Action. However, the spy chief said Tehran was fostering unrest in the region.
"Iran continues to work with increasing military aggression in the Middle East, closer to our borders than ever before. Iran continues to support terrorist groups, Hezbollah and recently Hamas. Iran continues to work to transfer advanced — and accurate — weaponry to terror groups within our region," Cohen said.
Cohen's comments appeared to confirm recent military assessments that Tehran was outfitting Hezbollah with precise missiles that are meant to be used in a future war with Israel. Jerusalem has also long been concerned that Iran-backed Shi'ite militias were entrenching themselves along the Syrian border with the Golan Heights.
According to the Jerusalem Post, Cohen said Mossad "undertakes hundreds and thousands of actions every year, some of which are complex and bold, in the heart of enemy states – the target countries", with a "unique ability to work in the very heart of the target, to penetrate into the most guarded and dangerous places, and to return with a decisive achievement."
Since its very inception, the Islamic Republic has repeatedly threatened to destroy Israel. In October 2015, Iran unveiled what it claimed to be underground ballistic missile "cities." Missiles were shown with "Israel must be wiped out" in Hebrew written on them.