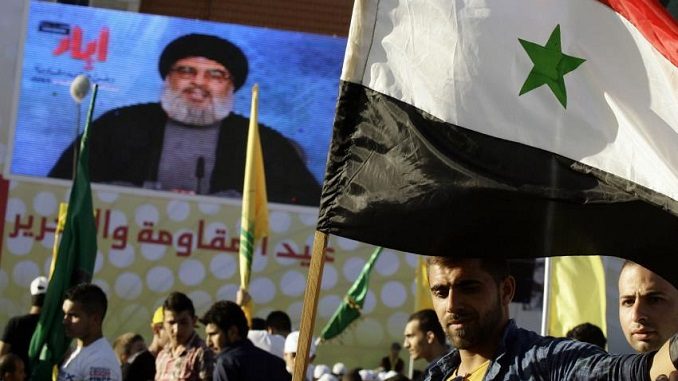 Just a week after Hamas agreed to reconcile with rival Palestinian faction Fatah and curb its relationship with Hezbollah – an agreement seen by many as a first step necessary to negotiate peace with Israel – Hamas' No. 2 leader traveled to Tehran to reinforce his group's solidarity with Iran and the anti-Israel "axis of resistance," Al-Monitor reports.
The Oct. 19 visit of a Hamas delegation led by Saleh Arouri to Tehran wasn't just another visit representing the Palestinian movement, but rather marked a milestone in the relationship that has been revived in the past few months. It was an obvious declaration by the movement and its old-new allies in the Iran-led resistance axis that a new path is being drawn, and a new strategy for confrontation is being set.
It was the second trip to Tehran in a few months by Arouri, known to be the mastermind of Hamas' military operations in the West Bank. An official source from Hamas told Al-Monitor that on the delegation's final night in the Iranian capital, it met with Quds Force Commander Maj. Gen. Qasem Soleimani, who stressed that "Iran's support to the resistance is the main priority now." Quds Force is part of Iran's Islamic Revolutionary Guard Corps.
Arouri also met Nov. 1 with Hezbollah leader Hassan Nasrallah in Lebanon to discuss the latest developments. "Both parties stressed the intersection between resistance movements and solidarity against the Zionist aggressions and all that is being plotted against the resistance movements in the region," a media statement said. In other words, Hamas and Hezbollah, under the new Hamas leadership, are becoming closer than before. This also confirms reports that Arouri, who was asked by Qatari authorities months before to leave Qatar, was now based in Beirut.
Moreover, according to the Hamas source, "Relations with Hezbollah are at their best, and both Arouri and Nasrallah have a hotline [to] discuss whenever necessary issues of common interests [arise]." The source told Al-Monitor that with the war in Syria coming to an end and all the "past misunderstandings put aside, Hezbollah and the Islamic Republic [of Iran] stressed that their priority is backing the Palestinian resistance's fight against Israel, and this means putting all their capabilities at the resistance's service."
For six years, specifically since the Syrian uprising, Iran and Hezbollah shifted priorities for what they saw as the existential threat they were facing in Syria, and later in Iraq. This came amid a rift with Hamas on their polar positions over the regime in Syria, which the movement did not support.
This didn't mean halting all the support to the movement and other allied movements, such as Islamic Jihad, but support was limited in the case of Hamas to its military wing, Izz ad-Din al-Qassam Brigades, which later played a main role in bridging the gaps between the two sides. The brigades lobbied for change in Hamas leadership, and pressured the Iranian side to halt the media campaigns launched by allied outlets.
During the years of the Syrian war, the main narrative adopted by the resistance axis was that fighting in Syria was necessary because "if Syria falls, Palestine will fall." This was reiterated by Iranian and Hezbollah officials on several occasions, prompting many of their adversaries — such as Lebanese Prime Minister Saad Hariri — to question whether the "road to Jerusalem passes through" Syrian cities.
Moreover, while busy in what Nasrallah described in a Dec. 11 speech as the "scarcity years" — in reference to the war in Syria — the axis of resistance lacked a clear strategy for confronting Israel. Nasrallah also spoke that day, during a demonstration in Beirut's southern suburbs against US President Donald Trump's decision to recognize Jerusalem as Israel's capital. He appeared to concede the lack of strategy.
"Let us lay out a unified confrontation strategy so that we all confront under a clear and unified strategy. Let us devise a practical and operational plan in which roles would be distributed and efforts would be integrated in this grand confrontation. We in Hezbollah will fully perform our responsibilities in this regard," Nasrallah suggested.
In fact, Hezbollah is openly supporting a third "intifada" in Palestine, which would lead to mounting pressure on Israel and a new challenge and threat to Netanyahu's government. To the group, Israel had in recent years been dealing with minimum threats, which gave it the chance to take advantage of the Palestinians, and even of Hezbollah itself.
Now that the war in Syria is no longer the main challenge for the resistance axis, Hezbollah is looking forward to re-emerging as a main player inside the Palestinian territories and creating new rules of engagement. Thus, it would revive its priority of resisting Israel, after more than five years in the role of a nonstate regional player with the mandate of keeping defiant Syrian President Bashar al-Assad in power, besides fighting or assisting in the fight against radical Sunni movements in both Syria and Iraq.
In this regard, Hezbollah will have to invest on the political and media levels to achieve its goal. Besides, the group's rhetoric is probably going to change to emphasize Islamic unity, after it was dominated in previous years by politically driven sectarian incitements, given the nature of the battle in Syria.
The group and the leadership of the resistance axis in Tehran both are doing their "duties and looking forward to see the impact of our effort," an Iranian political source told Al-Monitor on condition of anonymity. The source added, "If the people decide to confront Israel, the axis will help and if not, the axis will face reality by creating the appropriate narrative and providing the right means to help people confront Israel."
Yet this isn't all, as the axis is anticipating that Israel will launch a war on Hezbollah once the Syrian war ends. On several occasions, Nasrallah has discussed a strategy for a different path of confrontation: He wants to make use of all the groups that fought with the axis in Syria. This means he wants to engage Syrian, Afghani, Iraqi and Pakistani fighters with the Lebanese in the expected war.