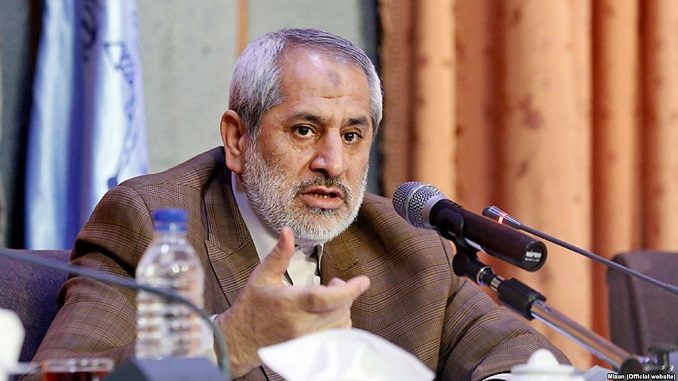 A spy who had worked for American and European intelligence services was sentenced to 6 years prison, according to Abbas Jafari Dowlatabadi, Tehran Prosecutor General, Mehr News reports.
"The spy who had met with American intelligence agents nine times to transfer information of Iranian nuclear issues to the U.S. and a European country has been sentenced to 6 years prison and confiscation of all sums of money acquired from espionage," said Abbas Jafari Dowlatabadi, Tehran Prosecutor General, on Sunday.
He also recounted some policies of the prosecutor's office in dealing with the detainees arrested during the recent riots in Tehran. He asserted that the judiciary body was very serious to distinguish between the main ring-leaders of the riots and those who had been deceived to join the riots.
Dowlatabadi told judiciary news website Mizan that the convicted person had met nine times with U.S. and European agents to hand over information "about sanctions and nuclear matters" and had received unspecified sums of money in return. Djalali, a researcher at Stockholm's Karolinska Institute, has denied the charges.
"This person has been sentenced to six years imprisonment and the return and seizure of funds," Dowlatabadi said.
In December, Dolatabadi said Iran's Supreme Court had upheld a death sentence against Ahmadreza Djalali, a Sweden-based Iranian academic convicted of providing information to Israel to help it assassinate several senior nuclear scientists.
Iranian state television later aired what it described as the confessions of Djalali, who it said had provided information to Israel to help it assassinate several senior nuclear scientists.
The Islamic Republic, which is notorious for its executions, has in the past executed individuals it claimed to be "spies" for both Israel and the U.S. In June of 2012, Iran claimed to have dismantled a terrorist and sabotage network in the southern city of Shiraz, which allegedly planned bombings and assassination attempts during Iran's presidential election. The network had links with the CIA, Israel and some neighboring Arab nations, Iran claimed.
In a previous incident, Iran executed Majid Jamali Fashi after convicting him of spying for the Mossad and of playing a key role in the January 2010 assassination of a top nuclear scientist in return for payment of $120,000.
At least four scientists were killed between 2010 and 2012 in what Tehran said were assassinations meant to sabotage its efforts to develop nuclear energy. Western powers and Israel said Iran aimed to build a nuclear bomb, which Tehran denied.
U.S. President Donald Trump said last month that he wanted to work with European allies and Congress to fix what he called "disastrous flaws" in the 2015 nuclear accord between Tehran and world powers.
Trump warned that Washington would withdraw from the deal, which curbed Iran's nuclear program in exchange for the easing of crippling international sanctions targeting Tehran if the terms of the agreement are not strengthened within four months. Tehran has ruled out any changes in the agreement, while the other signatories – Britain, France, Germany, China, and Russia – have closed ranks in support of the accord.
Also on February 4, Iran's judiciary acknowledged that it had granted medical leave to an 81-year-old Iranian-American convicted of "collaborating with the hostile American government." However, the judiciary sought to downplay any expectation that Baquer Namazi would be put on an indefinite release after his recent surgery to install a pacemaker.
"Like many prisoners who can go on leave, he went on a three-day leave," spokesman Gholamhossein Mohseni-Ejei said. "When he was out of prison, they requested the leave to be extended for another three days. His leave must have come to an end yesterday or today," he added.
Namazi's lawyer Jared Genser said he believed his client would remain on leave until at least February 5. Baquer Namazi, a retired UNICEF official, and his son Siamak are serving 10-year prison sentences. A United Nations human rights group and the United States have called for their immediate release.