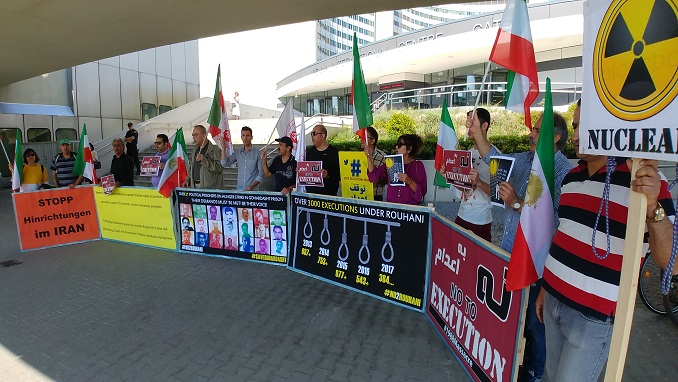 A group of political prisoners in Rajaei Shahr (Gohardasht) prison in Karaj, west of Tehran, have launched a mass hunger strike in protest against inhuman and degrading treatment and forced transfer to the max-security section of the prison.
Arash Sadeghi, a political prisoner incarcerated in Evin prison, in a letter announced his support for the legitimate demands of the hunger striking political prisoners in Gohardasht prison concurrent with their 25th day of hunger strike.
The letter reads:
I was informed that for more than twenty days, political prisoners in Rajaei Shahr prison have been transferred to solitary confinements after beating and mayhem and then to Hall 10 of this prison which has more than 40 surveillance cameras and max-security condition.
At least 18 prisoners are on hunger strike to protest their transfer, which is in contravention of the principles and standards of human rights and the rules of the Prisons Organization.
During the transfer of these prisoners, the prison guard intervened and beat some prisoners. This is despite the fact that the prisoners' personal belongings and even medication have been confiscated by prison authorities and have not been provided to them for more than 20 days.
Although these events are not unprecedented and earlier on 17 April 2014 another tragic event in different dimensions occurred for political prisoners, repeating these cases suggests that these events are certainly not a case of irregularity and a specific will is behind these ill-treatments.
It is unfortunate that in the current situation, no reference exists for these prisoners to resort to and to have refuge and demand justice. Prison and confinement to keep the critics silent are the legacies of non-democratic governments.
Although part of the world has largely abandoned these anti-human tactics, with the establishment of the United Nations and the enactment of the law and human rights conventions to define new methods for the behavior of rulers and treatment of the citizens, but there are still governments that seek to compensate for the lack of legitimacy by acting on the basis of methods that have been rejected for hundreds of years.
In the civilized world of citizens, regardless of their religious, ethnic, party, and social class affiliation, they can readily propose their ideas in accordance with the basic principles of human rights and criticize the rulers and can even oppose all elements of the government.
Unfortunately, in some countries, including Iran, a constitution has been made to create a legal dictatorship.
Examples of this are the widespread arrest of political, civic, and conscientious activists, and the holding of a few minutes trial and the issuance of heavy sentences for these loved ones.
How can a judiciary with such threats and intimidation establish security in the country and where will the end of such methods come about?
These behaviors are consistent with what moral principles and humanity?
Can justice be achieved by relying on the psychological and personality destruction of the prisoners as a complementary ring to torture and repression?
Such behavior towards the critics, also in prison, confirms the proposition that the ruling system in Iran does not tolerate any criticism or opposition. Such behaviors are not justified by any law or even religious law.
My brothers in Rajaei Shahr (Gohardasht) Prison: The torch of freedom and wisdom staying ablaze and the defense of human dignity and sanctity have a price. Let's hope for the day that we no longer witness the invasion of the realm of humanity.