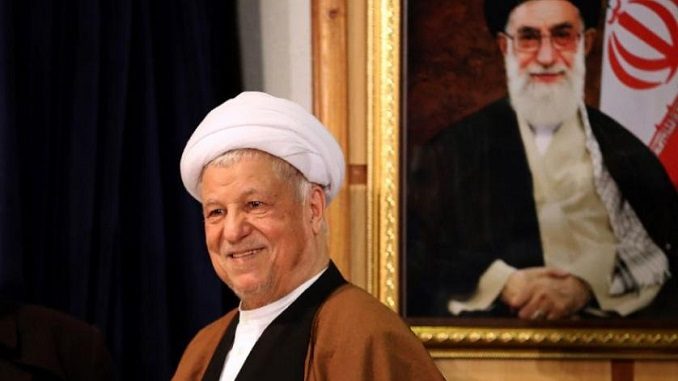 The cause of death of Iran's former President Ali Akbar Hashemi Rafsanjani is once again stirring controversy after his son Yasser announced that President Hassan Rouhani rejected a report by the Supreme National Security Council of the Islamic Republic (SNSCI) concerning the details of Rafsanjani's death, Asharq al-Awsat reports.
SNSCI sent a letter to Rouhani demanding to shelve the case, however the president rejected the demand, ordering the council to re-investigate the whole case. In an interview with Pana news agency on Monday, Yasser Rafsanjani revealed that his brother Mohsen was supposed to have the permission to study the report compiled on his father's death and will soon head to the SNSCI to be briefed about the investigation.
In this regard, Rafsanjani's brother, Mohammad, repeated earlier statements about concerns regarding his brother's death due to a heart attack.
"Since the cause of the heart attack was not mentioned, there are doubts. This is the reason behind some speculation," Hashemi said in an interview with ISNA, pointing that there are bruises on the chest area of his brother as a result of doctors' attempts to resuscitate him.
In her interview with Etemed reformist newspaper, Hashemi's daughter, Faezeh, said that her family had been informed about the issue of radioactivity during a meeting with several members of SNSCI. Faezeh Hashemi, told an Iranian newspaper that the council had told her that Rafsanjani's body had 10 times the permissible radioactivity. She did not mention when the meeting was held and who were the officials who attended it.
Hashemi was found dead on January 7, 2017 in a pool in his house that he frequently used after having a sudden heart attack. He was buried in north Tehran next to Khomeini. The same month, Faezeh Hashemi denied news reports about asking for autopsy, describing them as "rumors".
Sudden, unexplained deaths of political figures are not unheard of in Iran. Ali Shariati, one of the most well-known intellectuals and revolutionaries in Iran, died in 1977 at the age of 43 while in exile in the United Kingdom. Two of Ayatollah Ruhollah Khomeini's sons died suddenly: Mostapha while in exile in Najaf in 1977 and Ahmad in 1995, six years after his father's death. Lesser-known figures wrapped up in political scandals also have died suddenly. A doctor who testified about torture at one of Iran's notorious prisons also wound up mysteriously dead in 2009, with officials claiming it was suicide.
The death of Rafsanjani, however, is perhaps more significant than all the cases cited above. Despite having lost a number of elections after having served twice as president in the 1990s, Rafsanjani was experiencing an uptick in popularity in the last decade. His support for the Iranian nuclear deal, better relations with the West and his antagonism toward the county's hard-liners earned him a reputation as a wise, elder statesman who expressed the opinions of more liberal-minded Iranians seeking an end to the country's isolation. With his support for Rouhani in 2013, Rafsanjani showed that he still had enough public influence, along with former President Mohammad Khatami, to sway presidential elections.
While Iranian domestic media face limitations in speculating about Rafsanjani's death, foreign-based media do not. During a Dec. 17 interview with U.S. government-funded Radio Farda, Mojtabah Vahedi, former Reformist editor and adviser to 2009 Reformist presidential candidate Mehdi Karroubi, summed up a few of the theories floating around on Iranian social media.
Vahedi said no visits with Rafsanjani on his hospital bed were ever shown, whereas officials normally have photos of such visits published. Also, Supreme Leader Ayatollah Ali Khamenei, who led the funeral prayers for Rafsanjani, did not recite a specific popular line in the prayer. The line in question, "We have seen nothing but good from him," is often recited during Salat al-Janazah, though it is not mandatory in the funeral prayer. Vahedi said that Khamenei recited this line three times for the funeral of Ayatollah Abbas Vaezi-Tabasi, who led the Astan-e Quds Razavi foundation in Khamenei's hometown of Mashhad.
Vahedi indicated that Rafsanjani's death as well as ongoing political maneuverings in Iran, particularly those by former President Mahmoud Ahmadinejad, who has been having public quarrels with Iran's judiciary, point to the possibility that big changes may soon take place in Iran and that the various factions are positioning themselves to have the upper hand in the upcoming battles.
He believes the upcoming change has to do with the leadership, suggesting that Khamenei is likely ill. Rafsanjani, had he survived, could have played a significant role in choosing the next supreme leader of Iran given the former president's membership in the Assembly of Experts and his having played a role in establishing the careers of many midlevel officials in the Islamic Republic's sprawling bureaucracy.
However, rumors about Khamenei's ill health have been floating around in the foreign media for over a decade and have been a favorite topic of speculation for Iran watchers. Given the sensitive nature of such allegations, it is likely there will never be a clear answer.
And often the simplest answer is the best answer: Rafsanjani could very easily have simply died from cardiac arrest.