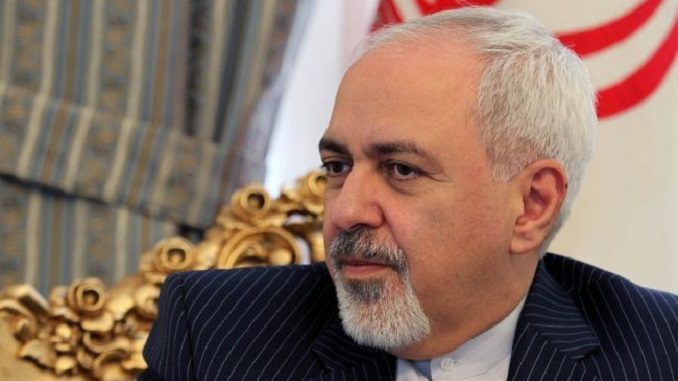 Iranian Foreign Minister Mohammed Javad Zarif issued an announcement that he would file a complaint at the United Nations against the United States due to the country's accusations last week that Tehran was supplying Yemen's Houthi militias with missiles.
"The Iranian side will complain to the UN about U.S. allegations about arms transfers to Yemen," Zarif wrote in a recent email to Sputnik, as cited by IRNA news agency.
In a press briefing on Thursday, Nikki Haley, the U.S. ambassador to the UN, presented what appear to be pieces of Iranian weapons supplied to the Iran-backed Houthis. During her briefing, she presented damning evidence of Iran's arming of the Houthis in defiance of UN resolutions. She later called for forging an international coalition to counter Tehran's threat. She added that every terrorist organization in the region bears Iran's hallmark, revealing that the ballistic missile fired against Saudi Arabia "was made in Iran and sent to the Houthis in Yemen."
Some pieces of Iranian weapons had specific markings indicating they were manufactured in Iran. One shredded piece of metal displayed to reporters bore the logo of Shahid Bakeri Industrial Group, an Iranian defense entity under U.S. sanctions.
Speaking to reporters in Tehran, Zarif dismissed the U.S. administration's "baseless" claim as an attempt to cover up its presence in the region.
"Obviously, Haley's remarks were not backed up by evidence and failed to even convince other western states," Zarif said.
The Raja New website, which is close to the Iranian Revolutionary Guards, however, reported that the missile Haley presented in her briefing was indeed a "Qiam" rocket that is manufactured by Iran. It said however that it was launched towards Syria's Deir al-Zour region on June 18 as part of a salvo of Revolutionary Guard rockets fired against ISIS positions in the area.
Guards spokesman Ramadan Sharif dismissed Haley's claims as "silly", alleging that Yemen had years ago obtained Chinese and North Korean technology to manufacture rockets. He accused the U.S. of launching a media campaign against Iran in order to justify the unjust America and European actions in the region.
The hostile campaign claims that the Iranian regime is weak and it does not have the ability to manage its own society, he continued. It has however proven otherwise.