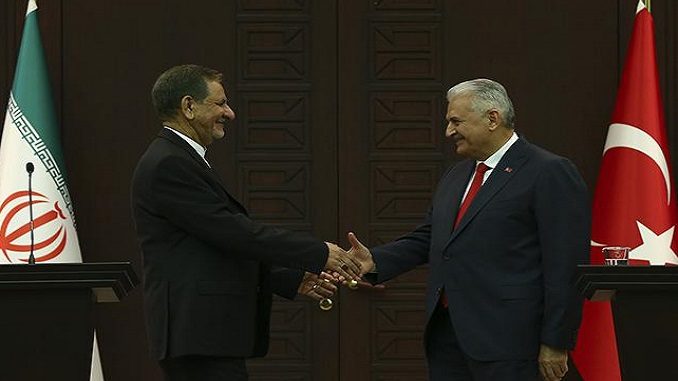 Turkey and Iran have pledged to take "necessary steps" and to stand together against violations of the territorial integrity of Iraq. Iranian First Vice President Eshaq Jahangiri and Turkish Prime Minister Binali Yildirim spoke at a press conference after a meeting in Ankara on Thursday.
"We are glad about the increasing cooperation on this issue," Yıldırım said, according to Turkish Hurriyet Daily News. The meeting comes after Iraqi forces and Iranian-backed militiamen from Hashd al-Shaabi entered disputed or Kurdish-inhabited areas in northern Iraq.
Yildirim explained Turkey and Iran pledged to take "necessary steps" in wake of the events following the Kurdistan Region's independence referendum on September 25. He said the move to hold the vote was a result of "personal ambitions and future quests of the administrators in the region."
He added that "it is difficult for those who cause this adventure to exist in the region and to continue their lives as leaders," while calling for steps to reduce harm. Jahangiri called the referendum "unsuccessful" and "void," Hurriyet reported, adding that the Iraqi government regained lands the Kurds had taken control of during the war with ISIS.
The two also spoke of bilateral relations, with the Iranian vice president saying Tehran can increase its export of oil, highlighting a previous agreement about trading in local currencies.
Also on Thursday, Turkish President Recep Tayyip Erdogan hinted that Turkey could give Baghdad control of the border gates with the Kurdistan Region if the central government meets "all the needs of the people under the northern Iraqi administration."
Iran closed its three official border crossings with the Kurdistan Region on Sunday just ahead of Baghdad's incursions into the disputed territories. Some semi-official border crossings were still functioning.
In the meantime, Kurdish media network Rudaw reports that Iran and Turkey played a role in the Iraqi military's advance into Kirkuk, the spokesperson of the Patriotic Union of Kurdistan (PUK) said in a press conference on Thursday.
"Turkey, Iraq, and Iran agreed to the incursion with Soleimani being Iran's representative to the commission and Turkey's representative might have been nominated by Hakan Fidan," PUK's Saad Pira said.
Qassem Soleimani, the commander of Iran's Quds Force, is a "military advisor" to the Hashd al-Shaabi forces in Iraq, Saad Hadithi, spokesperson of the Iraqi government, told Rudaw TV on Sunday night. Hakan Fidan is the head of Turkey's National Intelligence Organization.
"Whether or not we had talked with Iraq, they had trilaterally decided to come and take these areas. And it was decided for the Iraqi army to return to areas where they had held oilfields up until 2014," Pira said.