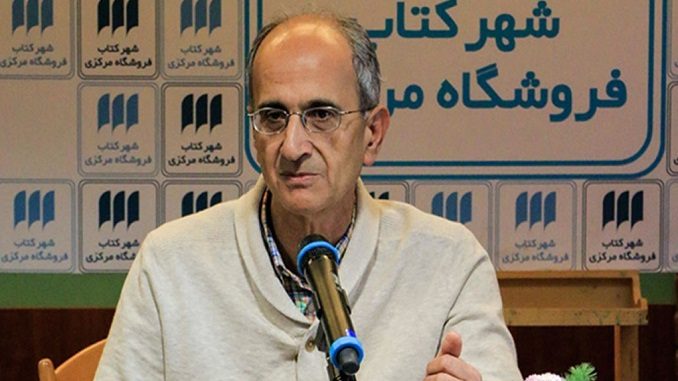 A third detainee, 63-year old Iranian-Canadian Professor Kavous Seyed-Emami, has died in custody in Iran, barely 17 days after his arrest and while under interrogations, Payvand reports. The Center for Human Rights in Iran (CHRI) holds the Iranian Judiciary fully responsible for the death of Seyed-Emami and calls for an immediate, international UN-led investigation into the three deaths that have occurred in custody in Iran in the past 40 days.
Iranian authorities must also immediately stop harassing Seyed-Emami's family and cease pressuring them into conducting a burial before the completion of an independent autopsy and medical investigation of the cause of death. The Tehran prosecutor's office told Seyed-Emami's wife that he committed suicide by hanging himself.
"The rising number of deaths in Iranian prisons is an unfolding tragedy that must stop no. This stems from the widespread impunity of judicial and security officials who are getting away with murder, time after time. The interrogators and the judicial authorities are directly responsible for prisoners' lives. In addition to independent investigations and an autopsy to determine the cause of death, the perpetrators must be held accountable in a transparent process," said Hadi Ghaemi, the executive director of CHRI.
Iran's judiciary has claimed that an Iranian-Canadian activist has ended his own life in detention because of the weight of evidence against him in a spying case, an Iranian news agency reported.
"He was one of the defendants in a spying case and unfortunately he committed suicide in prison since he knew that many had made confessions against him and because of his own confessions," Tehran's prosecutor Abbas Jafari-Dolatabadi told the semi-official ILNA news agency.
They made similar and highly questionable claims regarding two other recent deaths that occurred in custody in Tehran and Arak.
Iran's academic community was in shock over the death of Kavous Seyed Emami, one of the country's most revered professors and head of the Persian Wildlife Heritage Foundation. He was arrested along with seven colleagues from the wildlife NGO on Jan. 24, and his death was announced by the family on social media late on Saturday.
"The news of my father's passing is impossible to fathom. They say he committed suicide. I still can't believe this," wrote his son Ramin Seyed Emami, a well-known singer, on his Instagram page.
Ramin added that his father "was arrested on Wednesday, January 24, 2018, and the news of his death was released to my mom, Maryam, on Friday the 9th of February. It is unclear and highly questionable why Seyed-Emami, a professor of sociology at Imam Sadeq University in Tehran who holds a doctorate in sociology from the University of Oregon (1991), would commit suicide days after his arrest. He was also the managing director of the Persian Heritage Wildlife Foundation.
"Everyone is in shock. He was one of the best professors. He was very profound, very composed, not at all political. He loved Iran and the environment. He came back recently from Canada where he was doing research. On his return, he was called in several times" by the authorities," an academic who knew Emami well told AFP on condition of anonymity.
Emami had taught at the Imam Sadegh University, where many of the regime's leading figures were educated including nuclear negotiator Said Jalili.  Ali Shakourirad, head of the reformist Islamic Union Party, tweeted that the death "has caused a wave of questions and concerns among the public."
"The Tehran prosecutor's incomplete and vague information has added to these concerns. What is going on in this country? Why doesn't the judiciary give out information in time and transparently?" he wrote.
A friend of an Iranian-Canadian academic who died in an Iranian prison disputes Tehran's claim that he took his own life.
"The suicide came as such a shock to his friends and to the academic community. It is impossible for me to even consider the possibility of him contemplating suicide. The situation, the news is so sketchy and the information is too unbelievable," Sadri, who met Seyed-Emami at an Iranian university during a sabbatical, told CBC News on Sunday, adding that Seyed-Emami was "physically and psychologically very well put together.
Sadri urges the Canadian government to pressure Iran "to create clarity about this horrible tragedy."
"I think the Iran government is obligated to provide a detailed account of what really happened to him."
A spokesperson for Global Affairs told CBC News in an emailed statement on Saturday that consular officials "are working to gather additional information and are providing assistance to the family of the Canadian citizen." Until then, Sadri said he will continue to mourn Seyed-Emami's death and remember his passion and love for the outdoors and hiking.
"He was a dear friend," said Sadri. "He dedicated his life to the protection of the environment."
The statement said the family, despite being banned from holding a funeral service or memorial service, plans a service for Tuesday morning in the village of Amameh.