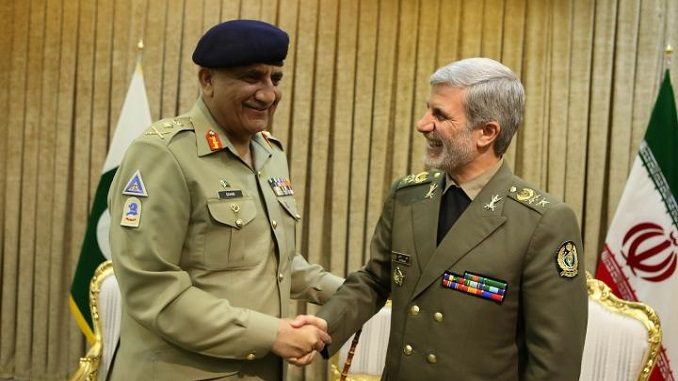 The Iranian Minister of Defense Brigadier General Amir Hatami, during a meeting with Chief of Army Staff General Qamar Javed Bajwa, said that Iran sees Pakistan's security as its own, reported IRNA.
"Respect for territorial integrity, solidarity and national sovereignty of the regional countries is among the fixed principles of the Iranian foreign policies," said Hatami.
Speaking in regards to regional and international developments, the Iranian defense minister said the arrival of Gen Bajwa in Iran is a move which will fortify bilateral relations in the areas of security and stability. Hatami also added that relations between Pakistan and Iran "are in line with strengthening defense capabilities of both neighboring countries".
Stressing on the development of ties with Iran's neighbors, the defense minister, he said Pakistan has a long border with the country and also a common religion and culture. Hatami also expressed hope that cooperation between the two countries will lead to the establishment of peace in war-ravaged Afghanistan. The defense minister also reiterated that Iran supports Pakistan's defense and military achievements "within the framework of strengthening regional security and stability".
On Monday, Bajwa was welcomed by top Iranian military officials, including Chief of Staff of the Iranian Armed Forces Major General Mohammad Baqeri. The trip is the first time in more than two decades that an army chief from the Sunni majority state and a close ally of Saudi Arabia has made an official visit to Iran.
General Bajwa held delegation-level talks with his Iranian counterparts and also held a meeting with Iranian Foreign Minister Mohammad Javad Zarif and President Hassan Rouhani. The talks focused on issues related to the geo-strategic environment, the Afghan situation, the growing threat of Daesh in the region and security along the shared border between the two countries. The army chief said during the meetings that Iran and Pakistan are two brotherly neighbors sharing history, culture, and religion. The army chief is on an official three-day visit to Iran.
While there are a number of major security issues to be discussed, tensions between Iran and Saudi Arabia have further complicated relations between Tehran and Islamabad.
Pakistan has reservations over the Islamic Republic's involvement in disputes in the Arab world as well as its proximity to India; a major foe of the Pakistanis. Iran on the other hand suspiciously looks at Pakistan's close ties with Arab monarchies and its main rival in the region, Saudi Arabia.