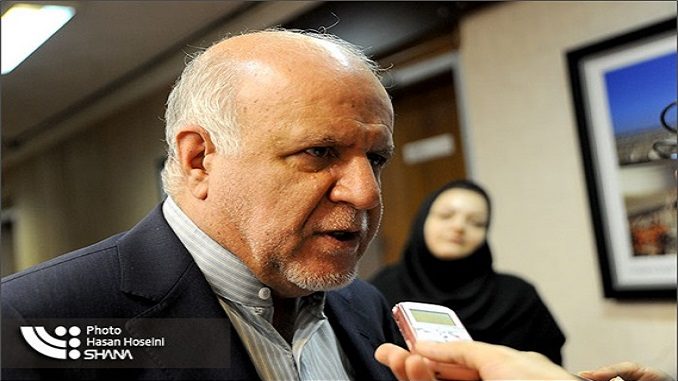 France's Total will lose all of its investment if it pulls out of a deal with Iran to develop South Pars, the world's largest gas field, the Iranian oil minister said on Tuesday.
"If Total, without the enforcement of (UN) Security Council sanctions, announces that it has the intention to leave the contract, no capital will be returned to this company and no sum will be transferred to the company," oil minister Bijan Zanganeh was quoted as saying by SHANA, the news site of the Iranian oil ministry.
Total signed a deal with Tehran in July to develop phase 11 of Iran's South Pars field with an initial investment of $1 billion, marking the first major Western energy investment in the Islamic Republic since the lifting of sanctions. The French oil and gas company said in a statement on Tuesday it was committed to Iran and had the "willingness to move forward" with the South Pars project.
"Total is currently working on the South Pars 11 project and is committed to pursuing it. Tenders have already been launched and contacts should be awarded by January," a Total spokesman said.
Total's Chief Executive Patrick Pouyanne said last week the oil major would have to review its Iran gas project if the United States decided to impose unilateral sanctions on Tehran over its nuclear program, given Total's assets in the U.S. market.
"Either we can do the deal legally if there is a legal framework," Patrick Pouyanne said in remarks made to CNN Money Emerging Markets late on Monday. "If we cannot do that for legal reasons, because of change of regime of sanctions, then we have to revisit it."
Trump unveiled a tough and comprehensive new policy towards Iran last month. He accused Tehran of violating the nuclear accord, and announced that he would no longer certify that the lifting of sanctions was in U.S. interests. The agreement is now effectively in limbo while Congress decides how to respond, but Trump's strategy risks setting off a chain of events that ends up derailing the nuclear deal. Pouyanne's office confirmed the interview had taken place.
"If there is a sanctions regime [on Iran], we have to look at it carefully.We work in the U.S., we have assets in the U.S., we just acquired more assets in the U.S," Pouyanne said.
The U.S. Congress is due to decide within about a month whether to reinstate sanctions on Iran, after U.S. President Donald Trump refused to formally certify that Tehran was complying with its nuclear deal.
Zanganeh said Total had pledged 56 million euros ($66 million) for the South Pars project and work was progressing as specified in the contract.  Total will be the operator with a 50.1 percent stake, alongside Chinese state-owned oil and gas company CNPC with 30 percent, and National Iranian Oil Co subsidiary Petropars with 19.9 percent.
His Wednesday's statement is reiteration of the previously announced stand couple of days ago, when Zanganeh said Total S.A.'s contract with Tehran to develop Phase 11 of the South Pars Gas Field is "legally binding" and the French energy major cannot walk away from the deal under normal circumstances. Zanganeh made the remark on Saturday on the sidelines of a meeting with Alisher Sultanov, Uzbekistan's deputy prime minister, in response to statements that the gas deal with the world's fourth biggest oil company could hit a roadblock, IRNA reported.
"It is regrettable that some people still desire Total to break its agreement," Zanganeh said, noting that those who have opposed the deal from the beginning try to purposefully mistranslate the news about Total's presence in Iran to sow uncertainty in the public and prove that the deal would not be successful.
Pointing to the terms of the contract, the official noted, "As per the agreement, the French major can cancel the deal only if the United Nations Security Council imposes new international sanctions against Iran."
According to Zanganeh, it is unlikely that the French giant abandons the project. Based on the terms of the contract, Total's revenue is contingent upon gas production from Phase 11. Therefore, as long as the project is not fully implemented, they will earn no money.
Behrouz Nemati, the spokesperson of Majlis Presiding Board said that because Phase 11 agreement has been signed under the new Iran Petroleum Contract model," in case Total terminates the deal unilaterally, it must pay compensation."
Separately, the managing director of the Iranian Gas Transmission Company, Saeed Tavakoli, said on Tuesday that Iran exported 5.4 billion cubic meters of gas to Turkey between March and September. In the previous Iranian year, which began in March 2016 and ended in March 2017, Iran exported eight billion cubic meters of gas to Turkey, SHANA quoted Tavakoli as saying.
On average, Iran exports 30 million cubic meters of gas a day to Turkey, Tavakoli said, according to SHANA.