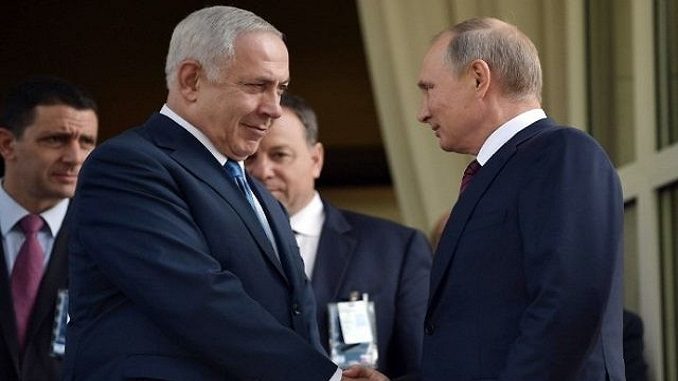 Israeli Prime Minister Benjamin Netanyahu spoke Tuesday with Russian President Vladimir Putin by phone about a ceasefire deal in the Syrian civil war and Iranian presence near Israel's borders with the war-torn country, the Prime Minister's Office said as quoted by Times of Israel.
The conversation was the latest in a series of high-level contacts between Israel and Russia, amid a dispute between the countries over allowing Iran and Shi'ite militias backed by Tehran to maintain a foothold near in Syria near the Israeli border.
"The conversation lasted about half an hour and dealt with Syria, and Iran's attempt to entrench itself in Syria. Netanyahu insisted on Israeli security and reiterated his opposition to Iran's entrenchment in Syria," Netanyahu's office said in a statement. The conversation came a day after Moscow's envoy to Israel, said Iran's military presence in Syria was solely dedicated to the "war on terrorism."
"Russia respects the Israeli concerns in the field of national security," Alexander Shein wrote in a message posted on his official Facebook page.
Earlier Tuesday, the Kremlin said that Putin had met with Syrian President Bashar al-Assad the day before in the Russian Black Sea resort of Sochi. The meeting in Sochi, which lasted three hours, preceded a summit between the presidents of Iran, Russia and Turkey set for Wednesday at the same venue. Iran and Russia have been Assad's main backers in the civil war while Turkey supports the opposition.
At the meeting, Putin has repeated his call for a negotiated political settlement to end the Syrian conflict. Putin told Assad at the meeting late on November 20 that the military operation in Syria was "coming to an end," although there was still a "long way to go."
The meeting came as the presidents of Russia, Turkey, and Iran are scheduled to meet in the Russian Black Sea resort on November 22 to discuss Syria. UN-sponsored negotiations aimed at fostering a political solution to the six-year Syrian conflict are due to resume in Geneva on November 28. Russia and Iran have given crucial military and diplomatic backing to Assad's government throughout the war, which began with a government crackdown on protesters in 2011.
Putin and Netanyahu last met face to face in August, although they have reportedly spoken by phone several times since. On October 17, Netanyahu met with Russian Defense Minister Sergei Shoigu in Jerusalem, where the two men discussed the Islamic Republic's attempt to establish itself militarily in Syria.
"Iran needs to understand that Israel will not allow this," Netanyahu told Shoigu, according to his office.
According to an unnamed Israeli official, under the Syrian ceasefire deal, militias associated with Iran would be allowed to maintain positions as close as five to seven kilometers (3.1-4.3 miles) to the border in some areas, Reuters reported last week. Last week, Defense Minister Avigdor Liberman said Israel will not tolerate Iran's presence in Syria as part of the U.S.-Russian ceasefire deal, especially near the Israeli border.
"We simply will not allow Shi'ite and Iranian entrenchment in Syria. And we will not allow all of Syria to become a forward-operating base against the State of Israel. Whoever doesn't understand that — should understand that," Liberman said.
The day before, Russian Foreign Minister Sergey Lavrov told reporters that the ceasefire terms did not include a Russian commitment to ensure Iran-linked militias would be pulled out of Syria.
The Israeli Air Force has carried out numerous airstrikes in Syria on weapons convoys bound for the Iran-backed Hezbollah terror group, though it rarely acknowledges individual raids. Hezbollah has sent thousands of its fighters to help Assad's forces put down the insurgency, which has dragged on for six years.  Earlier this month, the BBC, citing a Western security official, reported that Iran was setting up a permanent base on a site used by the Syrian army near el-Kiswah, 14 kilometers south of Damascus, and 50 kilometers from the Israeli border.