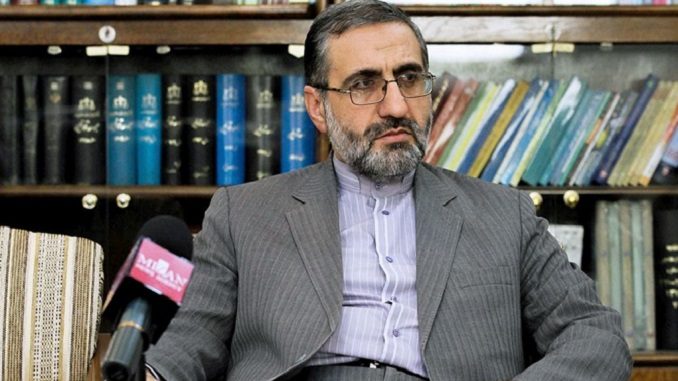 Three hundred verdicts have been issued against the United States in different courts of law in the province of Tehran, the head of the local justice department, Gholam Hossein Esmaeili Esmaeili, has announced as quoted by Radio Farda.
"The U.S. should pay a $110 billion penalty and compensation to Iranians who have suffered from sanctions 'illegally' imposed on Tehran by Washington," claims Esmaeili based on the final verdicts.
Earlier this year, the Iranian Parliament authorized the judiciary to establish special courts to arbitrate on claims of complainants who believe they suffered from what Tehran brands "illegal sanctions imposed by the United States" or what MPs refer to as "America's adventurist terrorist actions in the region."
Esmaeili announced the news on a TV show on October 10, the semi-official Mehr News Agency (MNA) reported. Esmaeili has also asserted the verdicts were issued in a "particular" form that is "applicable in international forums."
Elaborating further, he said, the verdicts had an impact on negotiations for the release or swapping of prisoners. Esmaeili did not disclose the nature of the swap or the "impact" of "verdicts" on it, but in passing he referred to returning "some Iranian money that was unfairly kept in the United States."
Apparently, he was referring to the Obama administration, which secretly arranged for a plane delivery of $400 million in cash, on the same day Tehran released four Iranian-American prisoners as it formally implemented the Joint Comprehensive Plan of Action, JCPOA, or Iran's nuclear deal with world powers.
According to CNN, President Barack Obama approved the $400 million transfer, which he had announced in January 2016 as part of the Iran nuclear deal. The money was flown into Iran on wooden pallets stacked with Swiss francs, euros, and other currencies as the first installment of a $1.7 billion settlement resolving claims at an international tribunal at The Hague over a failed arms deal going back to the reign of the Shah.
Then Republican presidential nominee Donald Trump lambasted Obama for the deal and stated: "Iran was in big trouble, they had sanctions, they were dying, we took off the sanctions and made this horrible deal and now they're a power."