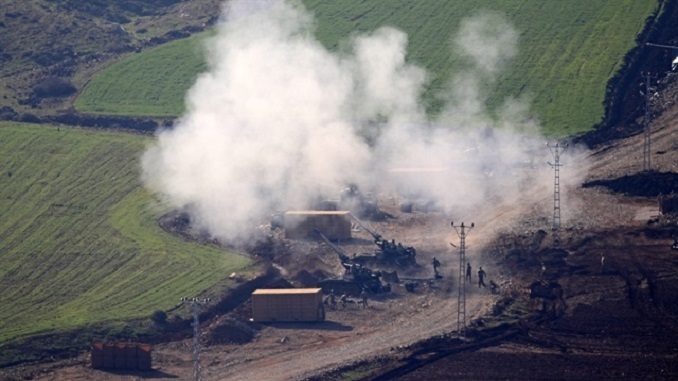 Iranian state TV on Wednesday aired a fabricated news story claiming that the Turkish army had used chemical weapons against PYD/PKK terrorists in Afrin, northwestern Syria, Yeni Safak reports. Citing Al-Alam, another Iranian state channel, state channel IRIB reported without producing any evidence that the Turkish army used chemical weapons during its Operation Olive Branch to clear PYD/PKK and Daesh terrorists from Afrin.
There were no related stories on Al-Alam, demonstrating that IRIB's fake news is based on PYD/PKK sources and is a part of a smear campaign against the Turkish-led Operation Olive Branch. Over the years, PJAK, the terrorist group PKK's Iranian off-shoot, has killed a number of Iranian security forces in clashes.
Turkey on Jan. 20 launched Operation Olive Branch to remove PYD/PKK and Daesh terrorists from Afrin. According to the Turkish General Staff, the operation aims to establish security and stability along Turkish borders and the region as well as to protect Syrians from terrorist oppression and cruelty.
The operation is being carried out under the framework of Turkey's rights based on international law, UN Security Council resolutions, its self-defense rights under the UN charter, and respect for Syria's territorial integrity, the military said. The military has also said that only terrorist targets are being destroyed and the "utmost care" is being taken to not harm any civilians. Afrin has been a major hideout for the PYD/PKK since July 2012, when the Assad regime in Syria left the city to the terror group without a fight.
Iran is the latest country to add its voice to growing calls for Turkey to curtail its military operation in Syria against a Syrian Kurdish militia. Turkey-Iran relations have recently improved, but Tehran is seen to be increasingly concerned about the lack of clarity on the scope and duration of the Turkish military operation and Ankara's goals.
"We wish for Turkey's operation in Syria to end at the earliest time," Iranian President Hassan Rouhani told reporters Tuesday.
Rouhani's call for a swift end to the operation follows reports this week of a fatal clash between Turkish forces and Iranian-backed militias in Syria.
"They [Tehran] didn't think it was going to be that big an operation. Now it's very ambiguous, now it's seen as a threat. The Iranians don't want a large Turkish military operation in Syria. They don't want to see any threat to their ally [Syrian President] Bashar al-Assad, and the Islamic regime of Iran does not want to see a neighbor as a competing force in Syria," said Iranian expert Djamshid Assadi of the Burgundy School of Business in France.
Turkish President Recep Tayyip Erdogan sought to play down tensions with Tehran over Syria, dismissing it as a Washington conspiracy.
"You [the U.S.] may have plans regarding Turkey and Iran and maybe Russia, however, we will remain resolute," Erdogan said Tuesday at a meeting of his parliamentary deputies.