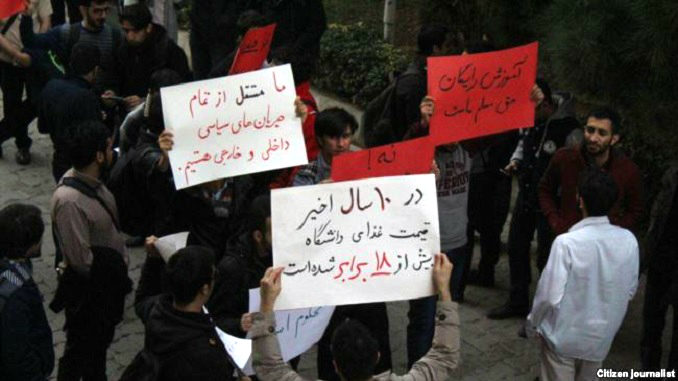 Student protests in Iran this week were propelled by different grievances and demands. Some were concrete issues related to financial issues and others were the result of constant pressures and interference by security organs in universities, Radio Farda reports.
One hotspot has been the Petroleum Industry University (Sana'ate Naft), where student protests began even earlier. The university in Abadan, a petroleum industry center in southern-western Iran, has announced it will close until further notice due to a student strike that has lasted for more than two weeks.
In a statement, the university accused students of disrupting university affairs and said that the decision is based on the fact that students have refused to attend class since November 18 under the pretext of employment demands.
Students at the university, which is funded by the Oil Ministry, have organized protests in Abadan and Tehran demanding the ministry hires them after graduation as they were promised upon admission. The guidelines were changed in 2015, and the ministry now says it will only hire those who pass written and oral employment tests.
"The court of the first instance has issued a verdict in our favor that obliges the Oil Ministry to fulfill its commitment toward students. Unfortunately, because the ministry has the best lawyers, they have appealed all the points in our lawsuit and we have to wait until the appeals court issues its verdict next year," one of the protesters, who requested anonymity, told Radio Farda.
Simultaneously, students at other universities organized protests against political suppression, gender discrimination, and increasing tuitions. Iran's constitution provides that citizens should receive free education; however, only 7 percent of the country's universities are actually tuition-free, current student activist Mohammad Sharifi Moghaddam told Radio Farda.
"Protesting students are also demanding security agencies should stop keeping universities under tight watch.There is rarely a politically active student who has not received an anonymous threatening phone call from security agents," Sharifi added.
On December 4 and 5, hundreds of students at major universities across Iran demanded an end to political suppression, gender segregation, and discrimination, and what they call a monetization of universities and capitalization of social life.  The protests started on Monday at Tehran University, Beheshti, Kharazmi, and Allameh Tabatabaei Universities in the capital and expanded to several other institutions on Tuesday.
On Tuesday, at Qom university, 120 km south of Tehran, students protested gender segregation at a ceremony commemorating the Students Day and walked out of the venue chanting "students die, but do not accept discrimination".
Since 2009 protests against the victory of Mahmoud Ahmadinejad in the presidential election, hundreds of politically active students have been harassed and arrested by security forces. Their publications have been systematically banned or censored, and some of the students have been even suspended or discharged from the university.
The state-run Jame'eh Farda (Tomorrow's Community) newspaper reported that at least 150 postgraduate students at Master and Ph.D. levels were starred (term used by the Iranian regime to bar protesting students from continuing their postgraduate studies) in October this year, saying that they received a message of "defects in their case" and were deprived of access to the universities to continue their education. The newspaper wrote in an issue on Thursday, November 30, quoting "an informed source" at the Ministry of Science, Research and Technology:
"In the new academic year, between 150 and 200 postgraduate students at Master and Ph.D. levels will not be eligible to register and remain starred after completing the exam because of the defect in their case."
Starred students are referred to those students who are deprived of continuing their education or expelled due to their student activities or political views. The term starred student was used during the regime's former president, Mahmoud Ahmadinejad, for student activists in different fields, and a star was placed against their names in the reports provided by the evaluation (examination) organization, leading to some deprivation and exclusions such as denial of education or expulsion.
During his election campaign, President Hassan Rouhani criticized the increasing pressure on students and promised to improve the situation. Students say the president has yet to fulfil his promise.
According to Amnesty International, after the presidency of Hassan Rouhani, a number of new students have also been arrested. It seems that Rouhani's government not only has not allowed these starred students to return to the universities, but also his government deprived many new students of education despite their academic and scientific qualification.