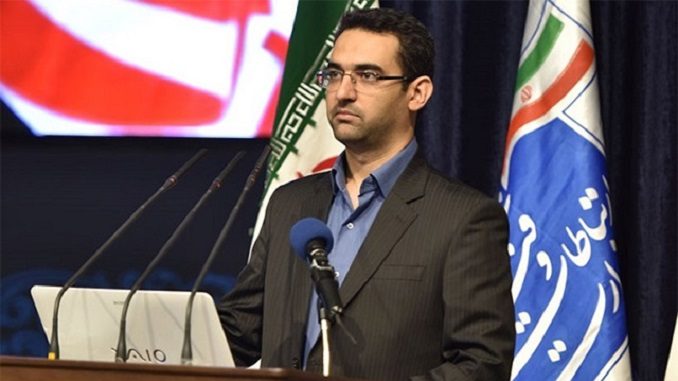 The Rouhani administration seemed to be expanding internet access, but the threat of censorship remains strong after 36-year-old minister, Mohammad Javad-Azari Jahromi was appointed in August by Iran's President Hassan Rouhani. Rouhani's appointment of hardliners to cabinet positions since his recent re-election is a worrying confirmation that promises to improve freedoms online will go unfulfilled.
Many young Iranians were hoping the new Minister of Information and Communication Technology (ICT) might uphold Rouhani's platform and support internet freedom, but Jahromi's sullied past, arrests, and policies signal otherwise.
While government mouthpieces were celebrating the youngest member of Iranian government, activists like Hamzeh Ghalebi, were already against the appointment. Ghalebi, who spoke out against former populist President Mahmoud Ahmadinejad's re-election during the 2009 Green Movement.
Jahromi's appointment follows a career spent in the Ministry of Intelligence, where he was personally involved in building surveillance infrastructure, and directly took part in interrogations and abuse of individuals involved in the 2009 Green Movement protests. Ghalebi says his friend was personally interrogated by Jahromi, and mistreated for his involvement in the protests.
Controlling the internet was a hallmark of the the Ahmadinejad administration, from 2005 to 2013. Jahromi oversaw the creation of the Computer Crimes Laws, which criminalizes a number of online activities that limit freedom of expression, and implementation of internet censorship and surveillance, including blocking mainstream platforms such as Twitter, Facebook, and YouTube.
Already, there have been startling announcements which deepen concerns for freedoms online. Jahromi has increased his censorship of Telegram app conversations, a reversal of the previous minister's efforts and also qualifying efforts to unfilter Twitter by suggesting the company must work with the Iranian government to moderate the platform inside of Iran.
The central internet decision making authority, the Supreme Council of Cyberspace, also made internet policy a direct mandate of the Supreme Leader, Ayatollah Khamenei. It is about to pass a law to either censor or compel technology platforms to work with the government for content regulation and monitoring. The Rouhani administration has yet to oppose this measure.
Rouhani was the candidate who most represented reform and freedoms going into the 2017 elections, a departure from Ahmadinejad's tactics of control and intimidation. His first term success helping Iranians gain internet access, with increased speeds, and encouragement of ICT development all boosted the Iranian economy, but with the appointment of Jahromi, much of his rhetoric now seems unfounded.
Why did Rouhani, a popular president who inspired and encouraged mass national rallies, pick Jahromi, a politician known for his role in repression? Perhaps his intention was never to further freedoms or he is caving into pressure from hardline government conservatives. For all these reasons, advocates of internet freedom are demanding the government of Hassan Rouhani to live up to his words, and take concrete actions to protect freedom of expression. But it remains to be seen if Iran's new minister will get in the way.