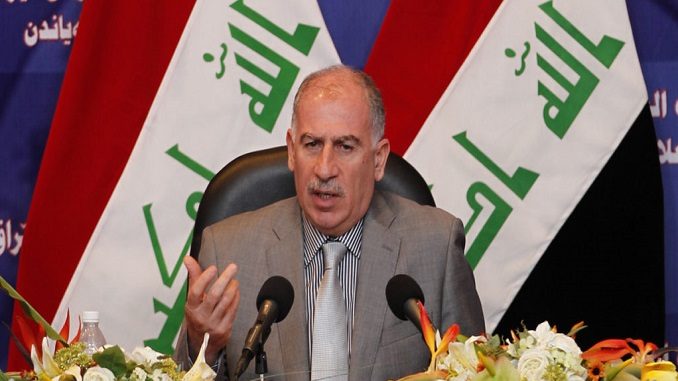 Iraq's highest-ranking Sunni leader said Tuesday the growing influence of Iranian-backed Shi'ite militias looms as the nation's most pressing future security threat and called for bolstering U.S. military aid to Sunni forces. In Washington for talks this week with Trump administration, Iraqi Vice President Osama al-Nujaifi is hoping the administration will deliver on pledges to counter Iran's growing influence inside Iraq and across the Middle East, PBS News reports.
Al-Nujaifi is one of Iraq's three vice presidents, and his brother heads a prominent Iraqi defense faction. In remarks Tuesday at the U.S. Institute of Peace, al-Nujaifi described Shi'ite militias in Iraq operating as a "parallel army" that could divide the nation even as Iraq's military is driving out IS fighters with the aid of American troops.
"The Iranian-backed factions have gained a lot of power and maybe they can pose more problems," al-Nujaifi said.
In an interview with The Associated Press and in an earlier draft of his remarks, al-Nujaifi was more explicit about his interest in securing military aid for Iraqi Sunni factions overmatched by Iran's equipping and training of Shi'ite militias.
"More attention should be paid to the strengthening of military capabilities of the people of former ISIS-occupied areas, training and enabling them to defend their areas," his speech says, according to a draft provided to the AP. He was referring to mostly Sunni areas recently liberated from IS fighters.
Al-Nujaifi suggested deploying more American military forces. The Pentagon has authorized more than 2,000 additional troops to Iraq since President Donald Trump took office in January, but analysts aren't expecting any new, significant surge.
"I presume his pleas will be met with collective eye-rolling," said Michael Knights, a Mideast analyst at the Washington Institute for Near East Policy.
On Tuesday, Al-Nujaifi made the case for disarming the Shi'ite militias. In a nod to Iraq's 2018 national election and his likely role in it, he said a new coalition party knitting together Sunni, Shi'ite, Kurdish and Christian factions would stand the best chance of acting as a bulwark against the militias. Iraq's current government is already a coalition, though often wracked with political turmoil.
In his interview with AP, al-Nujaifi recalled American military aid and training for Sunni tribal militias that fought against al-Qaida in Iraq a decade ago, saying Sunni forces again "need the ground support of the United States."
Iraq needs "a new national partnership on the basis of the constitution" that could include confederal control of the disputed areas, Vice President Osama al-Nujaifi also said on Tuesday.
"Disputed areas should be under the security of a confederated entity. This doesn't mean the Peshmerga and Iraqi armies should be deployed on the ground," said the Sunni leader Nujaifi at the United States Institute of Peace (USIP) in Washington, D.C. "It should originate from the local populace – in the hands of the people there."
Dismissing hints at partitioning Iraq into three-or-more states, the native of Mosul expressed that a move "to establish a Sunni regional government would not be constitutional, according to Article 119" of the constitution.