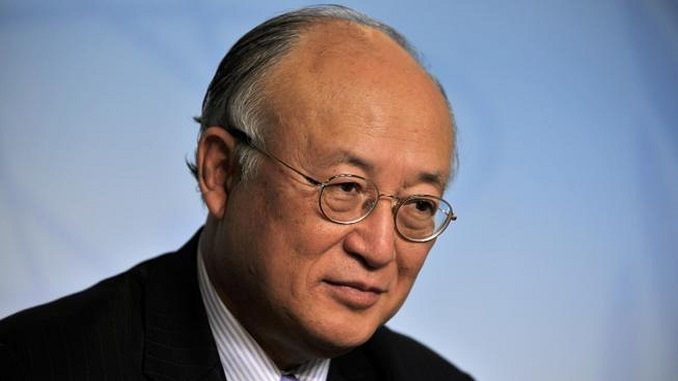 The United Nations agency set to monitor Iran's compliance with a landmark nuclear accord published a report Monday claiming that the country respects the agreement that the U.S. President Donald Trump claims Tehran has violated in several occasions, Voice of America reports.
The International Atomic Energy Agency report stopped short of declaring that Iran is honoring its obligations, in keeping with its official role as an impartial monitor of the restrictions the accord imposed on Tehran's nuclear programs. But in reporting no violations, the quarterly review's takeaway was that Iran's stockpiles of enriched uranium have not exceeded the agreed limit of 300 kilograms. The report also stated that IAEA inspectors were able to gain access to any sites they tried to visit.
The report cited IAEA chief Yukiya Amano as stressing "the importance of the full implementation by Iran of its nuclear-related commitments" under the agreement. Diplomats familiar with the work that went into the evaluation said Amano's statement referred to a past violation of heavy water limits that Iran has since corrected.
Heavy water cools reactors that can produce plutonium used to make the core of nuclear warheads. The IAEA last year said that Tehran had slightly exceeded the limit, but later said it had returned to compliance. Monday's report showed its heavy water supply remains under the maximum 130 metric tons (143.3 tons) allowed under the accord. The confidential International Atomic Energy Agency report is pretty much significant considering Trump's opposition to the 2015 agreement between Iran, the United States and five other world powers.
Last month, Trump did not certify as was required by U.S. law that Iran was in compliance with the accord. He said Iran had committed several earlier violations and was receiving disproportionate relief from international sanctions as part of the agreement. Although U.S. officials have acknowledged that Iran is in "technical" compliance, they say the country is violating the "spirit" of the landmark agreement to curb its nuclear program in exchange for sanctions being suspended.