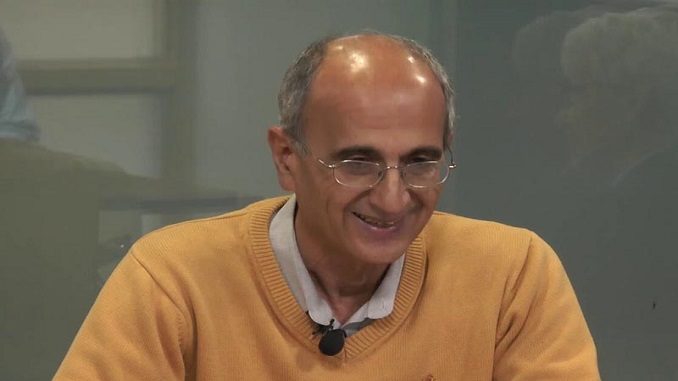 A lawyer representing the family of Kavous Seyed-Emami, who died under interrogation in Evin Prison on February 9, 2018, said a film of the detainee's last living hours does not show him committing suicide, Payvand reports. Payam Dorafshan also said that he and another lawyer hired by the family are investigating the case to determine the cause of death and reason Seyed-Emami was visibly agitated before he died.
"An autopsy was carried out and a burial permit was issued when Mr. Seyed-Emami was buried but for the cause of death, we have to wait for the medical examiner's final report, which usually takes a month," Dorafshan told the Center for Human Rights in Iran (CHRI) on February 13.
"What does the medical report say about what was in his blood? Did he take medications? We will ask the family if he was taking any medications or not. Unfortunately, the family is not in a suitable mental state right now. We have to do some investigations ourselves and seek help from judicial officials. So far, Mr. Shahriari, the Criminal Court investigator, in this case, has been acting well and in our presence, he spoke firmly to some organization and told them that they must hand over the [interrogation] film or else the family would not take the body. Mr. Shahriari said he would study the interrogations to see what state Seyed-Emami was in," he added.
On February 12, the Islamic Revolutionary Guard Corps (IRGC) requested a meeting with an unknown number of lawmakers to show them a film of Seyed-Emami's last moments.
"The fact that the film was shown to members of Parliament by the IRGC indicates that they were the ones holding him. They claim the incident happened in Evin Prison. Lawmakers claim that he was being held under good conditions because he was a professor but he could not tolerate it and committed suicide," Dorafshan told CHRI.
"However, in the film, we see that he is very anxious and disheveled in his cell. This is the part we are interested in and we want to know what you did to him for him to act that way? From a legal standpoint, if something goes wrong, responsibility lies with the detaining authority and the [State] Prisons Organization. I hope if some people are at fault, they won't hide behind the state," he continued.
The film does not show the actual act of suicide, Dorafshan told CHRI.
"There used to be a hidden camera in his cell which had hygienic services [a toilet] but apparently the [State] Prisons Organization had complained and said that there was no need for the camera to show the toilet. Or maybe their cameras cannot cover the whole area in these kinds of cells."
"In the film, he enters the hygienic services' area. The next day, someone brings breakfast and leaves. The film shows that this person comes back and sees that the breakfast has not been picked up. He opens the door and then calls out for others to come. When they take the body out there is a shirt around the neck. They had to cut the shirt because it had become too tight," he continued.
Dorafshan and another lawyer, Arash Keykhosravi, are jointly representing the Seyed-Emami family to seek answers about the death of the 63-year-old Iranian-Canadian, who died in Evin Prison on February 9. When the body was delivered to his family on February 9, the authorities claimed he had committed suicide. He was buried near Amaneh Cemetery near Tehran on February 13.
"The moment of suicide is not clear in this film. But for seven or eight minutes, he was doing things that could possibly suggest he had the intention to commit suicide," said Deputy Parliamentary Speaker Ali Motahari after viewing the film of Seyed-Emami's cell.
The Conservative MP said that "more details are necessary" to determine the cause of death.
Meanwhile, the son of Seyed-Emami said Iranian intelligence agents interrogated and threatened his mother to force her into silence. On February 9, Kavous Seyed-Emami's son Ramin wrote on his blog,
"They summoned my mother purportedly to 'meet with her husband.' Instead, they interrogated and threatened her for three hours before announcing the death of her husband."
Ramin says they forced his mother to commit in writing not to speak to the media.
"They threatened her by saying she would be imprisoned, too. Similar threats of harming my dad had previously been issued by authorities and forced us to keep silent while he was in custody," he added.
He also says threats against his family are not unprecedented. Ramin also tweeted that his father's memorial service, which had been scheduled to be held on February 15 at a Tehran mosque, was canceled after a telephone call. He did not say who made the call but what he probably meant is that security agencies interfered. Emami's body was buried on February 13 at Amameh Cemetery, 40 kilometers north of Tehran.