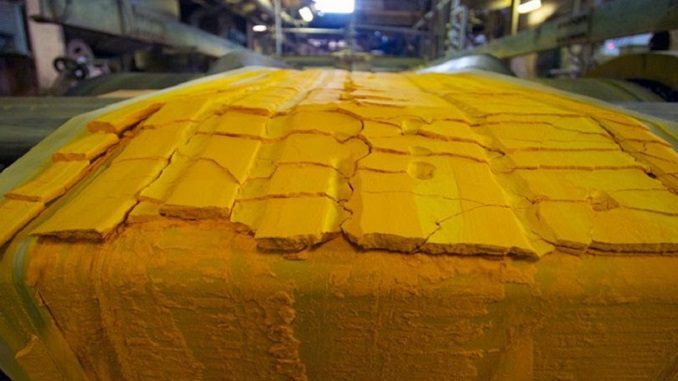 Kazakh company Kazatomprom has delayed its delivery of uranium to Iran as it is seeking the permission of six world powers involved in the 2015 Iranian nuclear deal, local media reported Sunday as quoted by Xinhua.
Galymzhan Pirmatov, Kazatomprom's chairman, was quoted by Financial Tribune daily as saying that the delivery of uranium concentrate to Iran can be possible only after obtaining permission from the six countries involved in the nuclear deal, namely Britain, China, France, Russia, the United States, plus Germany.
Iran and Kazakhstan signed a contract on the supply of natural uranium concentrate to Iran in April 2016. Based on the deal, Kazatomprom first planned to begin delivery of uranium to Iran this year, but it was delayed due to the process of obtaining permission from the concerned parties. Kazatomprom has extended the contract with Iran till 2020, and its delivery of uranium to Iran has been rescheduled to the 2018-2020 period if approved by the six powers, Pirmatov said.
Iran signed with the six powers the nuclear deal in 2015 to halt its nuclear weapons development program in exchange for the lifting of the nuclear-related economic sanctions imposed on it.
Iran announced in February plans to buy 950 tonnes of uranium ore from Kazakhstan over three years and expected to get Russian help in producing nuclear fuel. The acquisition would not violate Iran's landmark 2015 deal with world powers over its disputed nuclear program as the deal did not set limits on the Islamic Republic's supplies of uranium ore.
"About 650 tons is to be delivered in two shipments over two years and 300 tons during the third year, and this shipment is to be returned to Kazakhstan (after enrichment). Five of the members of the committee overseeing the (nuclear deal) have given their written approval, but Britain changed its mind at the last moment, considering the U.S. elections and Middle East problems," Ali Akbar Salehi, head of Iran's Atomic Energy Organization, told ISNA in an interview.