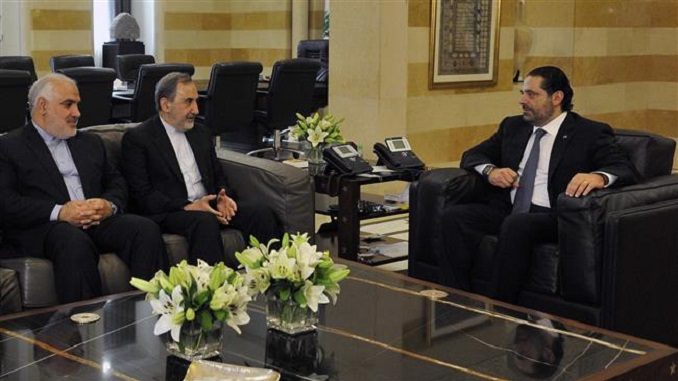 Without directly naming the kingdom, Iran's President Hassan Rouhani slammed Saudi Arabia for its reported role in recent developments in Lebanon. At a Cabinet meeting November 15, Rouhani said that direct intervention in the internal affairs of an independent country such as Lebanon and asking a person to resign and be replaced by someone else is unprecedented. Rouhani was referring to the recent resignation of Lebanese Prime Minister Saad Hariri in Saudi Arabia, Tasnim News reported.
"Who are you, what power are you relying on in doing such things? How much do you think money can do? That a Muslim country in the region asks and begs the Zionist regime to bomb the Lebanese people is very shameful and embarrassing. We haven't seen an Islamic country do such [a thing] in history, and this indicates that inexperienced figures have come [to power] in these countries."
Mentioning the Saudi-led war in Yemen, Rouhani said, "Why does a country that is Muslim and knows itself as the Custodian of the Two Holy Mosques pressure the innocent and Muslim people of Yemen, and why doesn't it express regret and sorrow? Why does it continue to commit its crimes? The United Nations has kept its silence in the face of these crimes and has taken no decisive and binding position, and the Western powers support these crimes."
Meanwhile, Supreme Leader Ayatollah Ali Khamenei's foreign policy adviser, Ali Akbar Velayati, responded to Hariri's remarks about his and Hariri's meeting in Beirut in the days prior to Hariri's departure and subsequent resignation in Riyadh.
In an interview with al-Mustaqbal TV on November 12, Hariri claimed he had told Velayati that Iran shouldn't meddle in Lebanon's internal affairs. Velayati met with Hariri on November 3. Following Hariri's resignation in Riyadh on November 4, various reports linked Hariri's quitting to Velayati.
In a press conference November 14, Velayati said: "He [Hariri] pointed at an issue that stems from being inspired by the Saudis. Hariri said that in the meeting he had with me, he had told me not to meddle in Lebanon's internal affairs. But he didn't say such a thing, and our talk wasn't harsh, tough or threatening at all." Referring to the various reports about the details of his meeting with Hariri, Velayati added:
"I didn't threaten Mr. Hariri, and we discussed the ongoing developments in the region. He was seeking in a way to mediate between Iran and Saudi Arabia, and I emphasized that we don't have any problem with Saudi Arabia. But the Saudis have been bombing the people of Yemen for two years and have surrounded the country, and 700,000 [Yemenis] have caught cholera." He said the Saudis "should negotiate with Yemenis on humanitarian matters."
Mentioning Hariri's interview, Velayati continued:
"Mr. Hariri said, 'Velayati didn't threaten me.' Yes, there was no reason to threaten him. We welcome the unity of the March 14 Alliance and March 8 Alliance … [which] have succeeded in placing Lebanon among the safe countries due to the understanding of the people and the Islamic resistance."
Velayati said he hopes Hariri will return to his job, adding: "We don't have any problem with negotiating with the Saudis, but negotiating doesn't mean the endorsement of the oppression of Saudi Arabia in some Islamic countries and their support for takfiris. We seek to live alongside each other based on good neighborliness, but we are against any illegal and un-Islamic action."