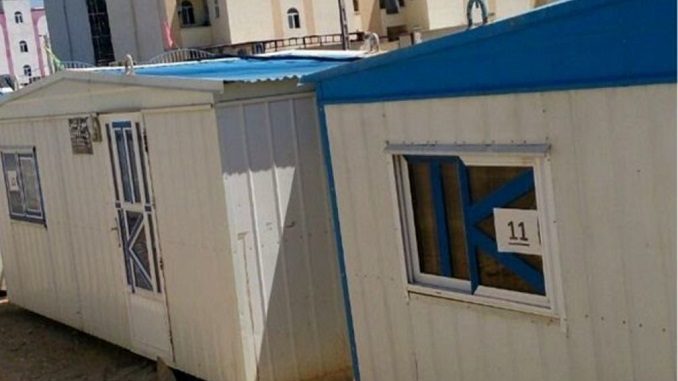 Iranians increasingly use shipping container homes instead of regular houses or apartments, an Iranian MP said and warned about the consequences, Radio Farda reports. People in outskirts of large cities such as Tehran are deprived of basic housing and therefore an increasing number of them choose to live in shipping container homes, Masoud Rezaei was quoted as saying by Iranian media on Monday. Iranian officials say that in the last 11 years, home prices have skyrocketed which has resulted in higher rents.
Currently in the capital Tehran, home buyers, on average, have to pay more than $1180 for one square meter, and renters must pay $7 for each square meter. The minimum monthly wage for a worker in the current Iranian calendar year is just above $227, which means that a worker in Tehran with his entire monthly salary can only afford a residential unit that does not exceed 32 square meters. According to a report by Shahrvand newspaper, renting price for shipping container homes is 1/8 of the rent for regular homes.
"Depending on the area where the container is located and its type, the [monthly] rent varies from $12 to $73," a real estate agent told Shahrvand.
Iranian MP Rezaei criticized the government for not paying enough attention to poor people living in outskirts of the cities and said the emergence of slums will lead to security problems for the cities, an increase of diseases, "moral corruption," and other social problems.
"It is time that government officials stop with their empty promises and take actions in order to distribute opportunities equally, fight unemployment, and improve the economy and people's life situation."
It is not clear how many people are living in shipping container homes in Iran. However, last year, the head of Iran's welfare organization described the emergence of slums, in addition to unemployment, as major "threats" to Iran and announced that between 12 and 13 million Iranians (between 15-16.25% of the entire population) live in slums.
Abbas Akhoundi, Minister for Roads and Urban Development has even spoken of 19 million living in slums (23.75% of the entire population). The Iranian regime's Interior Minister, Abdolreza Rahmani Fazli, said in the House of Commons last June that Iran faces problems such as 11 million people living in slums, unemployment of 3.5 million citizens, and drug addiction of 1.5 million people. Poverty is one of the most important causes of social harm in Iran. Last year, Ali Akbar Sayari, a representative of the regime's health ministry, said that 30 percent of Iranians are "hungry."
In the months leading up to the 1979 Iranian revolution, growing slums around Tehran was one of the major talking points of anti-Shah activists. According to Iranian data from 2015, Iran's slum population has increased 17 times in the last 30 years ago.
Iran's welfare Organization deputy director, Masoudi Farid revealed that there are more than 850 slum cities around the country. These slums lack proper city services and managements. People who live in these slums are most vulnerable people since being deprived of most basic sanitations and social services.