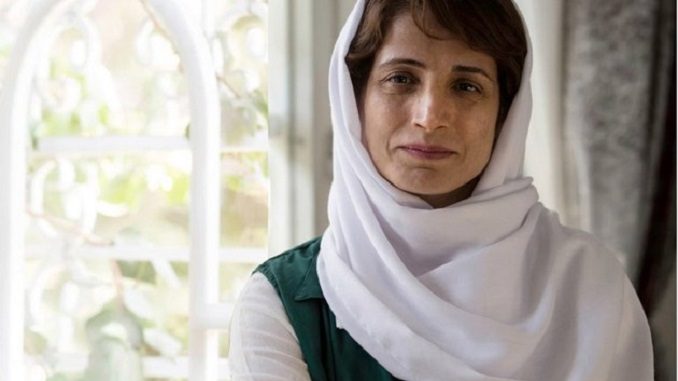 Prominent human rights activist and lawyer Nasrin Sotoudeh, who was previously imprisoned for her peaceful defense of human rights, has disregarded a summons issued by the Revolutionary Court at Tehran's notorious Evin prison, the Center for Human Rights in Iran reports.
"The legal procedure for summoning me has not been respected. Therefore I will not appear in court; I know I have not broken any law," Sotoudeh said, adding that she knows they will not treat her fairly. The summons, issued on November 16, 2017, warned she would be arrested if she did not comply with the order within three to five days.
"I have no idea why I have been summoned. I represented Parastou Forouhar after her family home was burglarized, and I have defended children who have been sexually abused. Perhaps these cases have touched raw nerves," Sotoudeh told CHRI.
Forouhar is due to appear at Branch 28 of the Revolutionary Court in Tehran on November 25, 2017, to face the charges of "propaganda against the state" and "insulting the sacred," brought by Iran's Intelligence Ministry.
Foruhar is the daughter of two victims of a series of murders of prominent personalities and intellectuals orchestrated by the state three decades ago. Parvaneh Eskandari and Dariush Forouhar were among the victims of a series of political murders (1988-98) of critics of the Iranian regime and particularly Supreme Leader, Ayatollah Ali Khamenei. A later investigation proved that Intelligence Ministry agents were responsible for the murders.
Reportedly, the victims included more than 80 writers, translators, poets, political activists, and ordinary citizens were killed by a variety of means – car crashes, stabbings, shootings in staged robberies, injections with potassium to simulate heart attacks.
"I have also used my [right of] freedom of expression to speak about my cases within the boundaries of the law on Facebook. But it really doesn't matter what I am accused of. I know I will not be treated fairly by the judiciary," Sotouhdeh added.
In 2010, Sotoudeh was sentenced to 11 years in prison for the charges of "acting against national security," "collusion and propaganda against the regime," and "membership in the Defenders of Human Rights Center." An appeals court later reduced her sentence to six years in prison and she was granted early release in September 2013 after serving three years behind bars.
In August 2014, the Lawyers' Court at the Tehran Bar Association overturned the ban on Sotoudeh's legal practice and ruled that she could continue to work as a licensed lawyer in Iran. Asked by CHRI about her practice in April 2016, Sotoudeh replied:
"I am only allowed to take on general civil cases now. I cannot defend suspects in political and security cases.  Individuals charged with security offenses have wanted me to defend them, but the judicial authorities would not allow it. For instance, a while ago [prominent reformist journalist] Issa Saharkhiz told the judge that I was his lawyer, but the judge refused," she said.