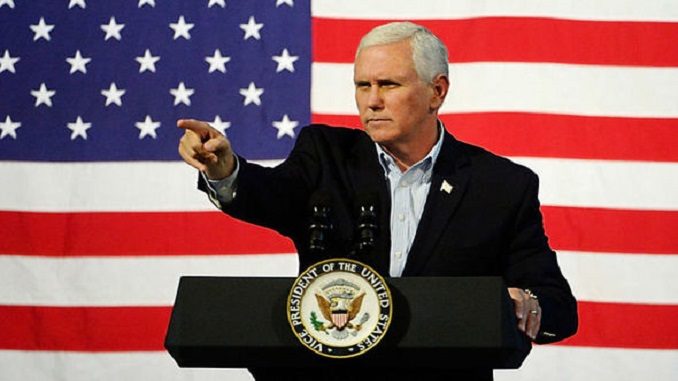 U.S. Vice President Mike Pence has reiterated that the United States will "withdraw" from the Iran nuclear deal with world powers unless the agreement is "fixed," RFERL reports. Pence made the comments in an address to the Israeli parliament on January 22, as U.S. Secretary of State Rex Tillerson cited progress in getting European support for tough penalties against Tehran that could prevent a U.S. withdrawal from the 2015 nuclear accord.
Tehran has ruled out any changes in the agreement, while the other signatories – Britain, France, Germany, China, and Russia – have closed ranks in support of the accord.
"The Iran nuclear deal is a disaster and the United States of America will no longer certify this ill-conceived agreement. As President Trump made clear, this is the last time. Unless the Iran nuclear deal is fixed, President Trump has said the United States will withdraw from the Iran nuclear deal immediately," Pence told Israeli lawmakers.
Pence also said the Trump administration was "committed to enacting effective and lasting restraints on Iran's nuclear and ballistic-missile programs," adding that the United States will "never allow" Tehran to have a nuclear weapon.
"I have a solemn promise to Israel, to all the Middle East, and to the world – the United States of America will never allow Iran to acquire a nuclear weapon," Pence said to applause from Israeli MPs.
Iran insists its nuclear program is only for peaceful purposes, while the United States and other countries claim it has been trying to develop nuclear weapons. The deal allows Iran to use nuclear power stations to generate energy but prevents it from using the technology to develop weapons.
The IAEA monitors Iran's nuclear sites to verify no nuclear material is moved from the sites, while Iran also allows inspectors to access sites they deem suspicious. Before the Iran deal was brokered, Iran had a huge stockpile of enriched uranium and nearly 20,000 centrifuges, enough to create 10 bombs, according to the White House.
Responding to Pence's address, Israeli Prime Minister Benjamin Netanyahu said Western powers must "seize the opportunity to correct the failings of a failed deal, but if those leaders do not seize that opportunity, Israel will unequivocally support the president's decision to walk away from a bad deal."
France's foreign minister accused Iran later on January 22 of not respecting part of a United Nations resolution that calls on Tehran to refrain from work on ballistic missiles designed to carry nuclear warheads.
Earlier this month, U.S. President Donald Trump said that he wanted to work with European allies and Congress to fix what he called "disastrous flaws" in the landmark agreement signed under his predecessor, Barack Obama.
Trump warned that Washington would withdraw from the deal curbing Iran's nuclear program in exchange for the easing of crippling international sanctions targeting Tehran if the terms of the agreement were not strengthened within four months.