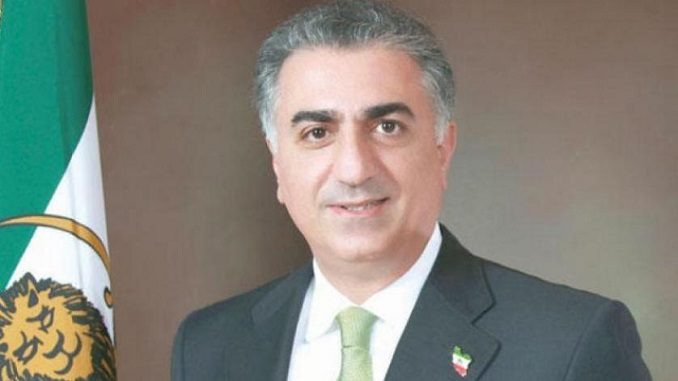 The Trump administration should encourage U.S. technology companies to provide communication services to Iranians as they protest their country's rulers, said Reza Pahlavi, the last heir to the Iranian monarchy, Asharq Al-Awsat reports.
In an interview with Reuters on Wednesday, Pahlavi said he wants to see Iranians "determine their own fate out of their own free will," and praised U.S. President Donald Trump and members of his cabinet for speaking in support of Iranian protesters. But he said they also should take steps to ensure that Iranians have access to communication and social media tools, which they have used to share videos and messages documenting protests and clashes with security forces.
"We need more than lip service. We need to see concrete actions," Pahlavi said. "This has to be immediate … As we speak, the regime is attempting yet again to try to shut down whatever it is, whether it's Instagram or Telegram."
On Wednesday, the sixth day of widespread protests against the ruling system in Iran, exiled Prince Reza Pahlavi has called on the police and security forces to join the demonstrators.
"The death of a number of the bravest men and women of our homeland and detention of many more during national protests make people more resolved in continuing the path they have taken," Pahlavi tweeted, adding, "I ask the military and police forces to separate their lot from the suppressing despots and join the people, right away."
Pahlavi has lived in exile for nearly four decades, since his father, the U.S.-backed shah, was overthrown in 1979. Iran's exiled crown prince now wants a revolution.
Pahlavi's calls for replacing clerical rule with a parliamentary monarchy, enshrining human rights and modernizing its state-run economy could prove palatable to both the West and Iran's Sunni Gulf neighbors, who remain suspicious of Iran's intentions amid its involvement in the wars in Iraq, Syria, and Yemen.
But the Mideast is replete with cautionary tales about Western governments putting their faith in exiles long estranged from their homelands. Whether Pahlavi can galvanize nostalgia for the age of the Peacock Throne remains unseen.
"This regime is simply irreformable because of the nature of it, its DNA is such that it cannot. People have given up on the idea of reform and they think there has to be fundamental change. Now, how this change can occur is the big question," Pahlavi told The Associated Press.
Pahlavi insists young Iranians increasingly look toward Iran's past. He pointed to recent demonstrations at the tomb of the pre-Islamic King Cyrus the Great, which have been claimed by a variety of anti-government forces as a sign of unrest. Under his father's secular and pro-Western rule, Iran experienced a rapid modernization program financed by oil revenues.
"If you look at the legacy that was left behind by both my father and my grandfather … it contrasts with this archaic, sort of backward, religiously rooted radical system that has been extremely repressive," Pahlavi said.
Asked how his envisioned peaceful revolution could play out in Iran, Pahlavi said it would need to begin with labor unions starting a nationwide strike. He said members of the hard-line Revolutionary Guard, a paramilitary organization established to protect the clerical system, would be assured they wouldn't be "all hung and shot." Most importantly, he said Western governments need to keep their distance and not threaten military action.
Pahlavi, who still resides in the U.S., said he hasn't had any "side occupation" since 1979 and has received financial support from his family and "many Iranians who have supported the cause."
"My focus right now is on liberating Iran, and I will find any means that I can, without compromising the national interests and independence, with anyone who is willing to give us a hand, whether it is the U.S. or the Saudis or the Israelis or whomever it is," he said.
Meanwhile, Iran's last queen, Farah Pahlavi, issued an official statement on January 2 sympathizing with families who have lost relatives during the protests.
"Do suffering people, who demand a better life in a rich country, deserve to be treated in such a way by those who are running the state?" she asked.
In her statement, circulated on social media, she called for freedom and unity in Iran and accused the country's leaders of corruption and oppression.