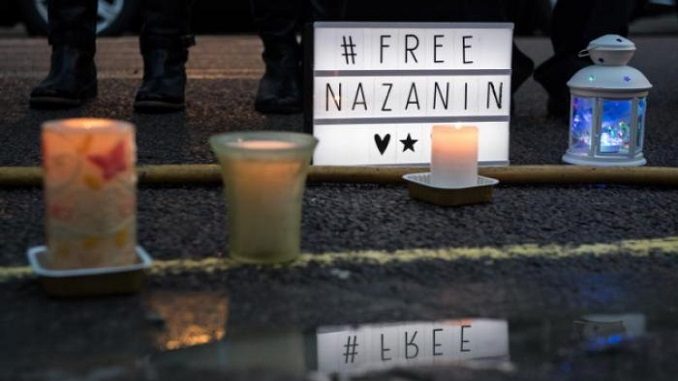 Nazanin Zaghari-Ratcliffe, the British-Iranian woman detained in Iran for allegedly plotting to overthrow the regime is eligible for early release from prison, her husband has said. Richard Ratcliffe told Good Morning Britain on Thursday that her lawyer had said he is "hopeful" she will be home for Christmas, The Telegraph reports.
The news comes after Boris Johnson raised Zaghari-Ratcliffe's case during a visit to Iran this month as he attempted to smooth over previous comments which had appeared to increase her chances of a longer sentence.
"Last night she met with her lawyer. He's actually a lot more hopeful and that's what he told her because on the judiciary computer there's a database that records the status of cases and it says she is eligible for release. That's on the computer, that's in the background – it's not what we've been told but it's a really good sign. As far as I understand it is on the computer but it's not like he has been told formally. What they have told her still is that they are just going to process the paperwork and that could be a while still," Ratcliffe told Good Morning Britain.
It marks a dramatic turnaround in the dual British-Iranian national's case, one that seemed unimaginable little more than a month ago, when comments by Foreign Secretary Boris Johnson seemed to have done huge damage to her hopes of freedom.
Zaghari-Ratcliffe had become eligible for early release on November 23, the 600th day of her imprisonment, when she had served a third of a five-year sentence imposed in September 2016 for threatening Iranian national security.
In October, about a month ahead of that deadline, her lawyer submitted an application to the Iranian prosecutor's office saying she should be considered for early release. The application was supported by a letter from the head of Evin Prison in Tehran which said she had been a good prisoner and emphasized her poor mental and physical health, as well as the effect of her imprisonment on her three-year-old daughter Gabriella.
Nazanin Zaghari-Ratcliffe is serving a five-year sentence for allegedly plotting to topple the Iranian government but a fresh trial into additional charges of spreading anti-government propaganda was postponed after the Foreign Secretary's trip.
Johnson visited Iran earlier in December and met with Hassan Rouhani, the Iranian President. The Foreign Office said the pair had "forthright" but "worthwhile" talks on the issues of regional tensions, the Iranian nuclear deal, and bilateral issues – including the fate of jailed British-Iranian dual nationals.
"I urged their release, on humanitarian grounds, where there is cause to do so," Johnson told the British parliament.
Last month, Johnson mistakenly claimed the 39-year-old had been training journalists in the country. He later retracted the comment and apologized. Johnson's mistake led to calls for him to resign should Zaghari-Ratcliffe's five-year sentence be extended because of his remark.
On the first Iranian working day after the Foreign Secretary's appearance before the FAC, Zaghari-Ratcliffe was hauled before a hardline judge to be told she faced a new charge of "spreading [hostile] propaganda".  The new charges seemed to have ruined her chances of early release and threatened to land her with a fresh conviction that would have doubled her jail time.
Zaghari-Ratcliffe's lawyer did not know when the judiciary marked her case as eligible for early release.
"Authorisation for that would have come after the Foreign Secretary's visit. I am trying not to put a target on it [the release date], but it is definitely a step forward," Ratcliffe said.