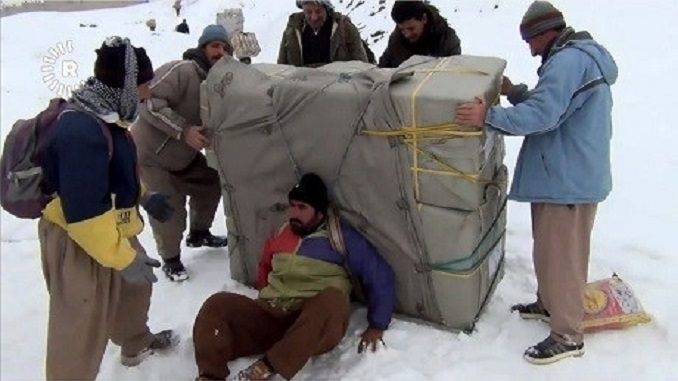 The Iranian government will develop the local economy in Kurdish areas of the country in an effort to put an end to the issue of semi-legal cross-border porters known as kolbar, Kurdish media network Rudaw reports.
"It is an ugly fact for us that there is still a Kurd who is a kolbar. We did not intend to push a brave Kurd to become a kolbar, nor was it a good answer to the loyalty of the Kurdish people," Ali Shamkhani, secretary of the Iranian National Security Council told reporters, explaining that Tehran has taken certain decisions to solve the problems of the Kurdish areas.
He said the Iranian government has great respect for the Kurdish people, whom he claimed supported the Islamic Republic since day one. The people of Kurdistan are respectable people and the Iranian government is proud of them, he asserted.
"It is a shame that the 1979 revolution has not been able to meet the socio-economic needs of the Kurds, driving kolbars to carry heavy loads across the often risky cross border areas," Shamkhani stated.
Kolbars frequently come under the fire of Iranian border guards. They also risk their lives in the treacherous mountain passes and cold winter temperatures on the Kurdistan Region-Iran border. At least 167 kolbars have died in 2017, including two killed by Iranian forces on Sunday night.
Osman Ahmadi, 20, and Mohammad Bahrami, 23, were "ambushed" in a village near the border town of Sardasht, the France-based Kurdistan Human Rights Network stated. They two were transporting loads of almonds on their horses when Iranian forces opened fire.
The rights monitor said the soldiers refused to bring the two to hospital. A medical official said the two died of severe bleeding. He said the Iranian plans will focus on creating jobs for the western provinces located on the border with the Kurdistan Region by developing trade exchange between the two sides.
Some kolbars are licensed by the Iranian government, though even they often face harsh treatment from border guards. Smuggling is outlawed. Some kolbars smuggle banned goods like alcohol across the border. Following Iran's decision to close its borders with the Kurdistan Region in late September, some Kurds in Iran who used to work at the official borders have turned to the often dangerous paths of smuggling.
"It's been two months that the border has been closed. None of us could have earned 100,000 toman ($28) for his family since then. Those who want to have a source of living, like me, will come to this mountain to work. They come to this place to smuggle goods. This will expose us to being killed, freezing and many other things," a kolbar says.
They mostly smuggle alcohol and cigarettes into Iran, items banned under the Islamic laws of the Iranian government. Trading these items in Iran can result in a three-year prison sentence and a $28.00 fine. The Kurdish provinces of Iran are among the poorest in the country, suffering years of underdevelopment.  Shamkhani said the kolbar trade must end, according to Iranian media outlets.
Border guards have standing orders to shoot any of these kolbars on sight if they refuse to surrender. About 165 kolbars have been killed in 2017 and 150 injured. They receive $30 for each box they carry across the border, over a dangerous path where winter temperatures drop below zero.
According to ILNA, a semi-official Iranian news agency, a 17 year-old boy is one of the most recent victims. His name is Vahid Dolatkhah and he died at the end of August as a result of an "unnatural" accident. Opposition websites and groups documenting rights violations in Iran have claimed, however, that Dolatkhah was shot in the chest and stomach by Iranian border guards while carrying smuggled cigarettes.
Unfortunately this is not the first porter that has died in such circumstances. Hundreds of the human mules have been killed or injured in past years, according to reports by rights groups. Border guards and security agents are notorious for being a huge threat to porters. Last year, there were more than 60 deaths.
Current estimates state that there are around 70,000 people working as porters in Iran. Many of the porters are from the Kurdistan and West Azerbaijan provinces, and many come from Kurdish communities.  In 2016, 42 human mules in Kurdish areas were shot dead by Iranian border guards and 22 died as a result of hypothermia and other causes, according to the France-based Kurdish Human Rights Network.