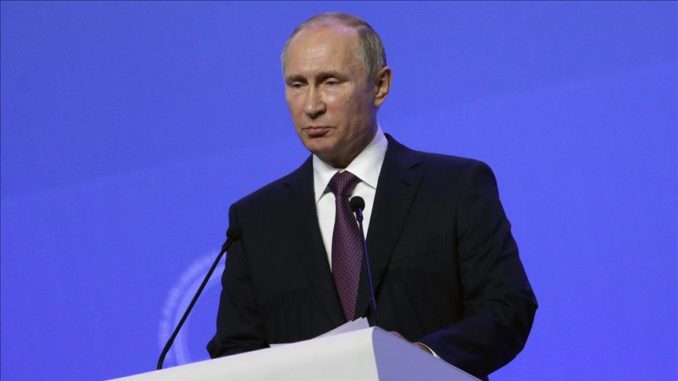 Russian President Vladimir Putin will visit Iran on Wednesday, according to a senior Iranian official, Middle East Monitor reports.
Putin will attend a trilateral summit between Russia, Iran, and Azerbaijan during his one-day visit, Deputy Foreign Minister Ebrahim Rahimpour said on Monday. He said the Russian leader will also hold talks with Iranian officials on a nuclear deal between Tehran and world powers as well as a host of regional issues.
The main objective of the Wednesday visit of Russia's Putin and Azerbaijan's Aliyev to Tehran is to follow up talks on the International North–South Transport Corridor, Deputy Foreign Minister Rahimpour said Sunday.  The INSTC is a 7,200 km long multi-mode network of the ship, rail, and road route between Iran, India, Afghanistan, Armenia, Azerbaijan, Russia, Central Asia and Europe.
"The issue of transit has gained special importance during the term of President Rouhani, and I believe that Iran has ample opportunities for cooperation in the fields of tourism, transit, and trade," Rahimpour said.
The Iranian diplomat noted that President Putin will stay in Tehran for a one-day visit, adding "regional and international issues, as well as Iran nuclear deal, will naturally be discussed during his visit. Russia is our ally and Azerbaijan has always backed the JCPOA."
Rahimpour maintained that Astana peace talks, the latest developments in Syria and the region as a whole will comprise other topics of discussion in the bilateral and trilateral meetings of the Russian and Azeri presidents, stressing however that the North–South Transport Corridor will take center stage during the Wednesday talks.
Rahimpour said the talks between Putin and Iranian officials will also tackle the Syrian conflict and planned talks between Syrian rivals at the Kazakh capital, Astana.
Russian Ambassador to Iran also confirmed to the media that President Putin will arrive in Tehran on Wednesday to attend the trilateral meeting of Iran, Russia, and Azerbaijan. Levan Dzhagaryan broke the news on Friday, adding that Vladimir Putin will also have bilateral meetings with Iranian officials in addition to the trilateral event.
The first trilateral summit of the three countries was held in April 2016 at the level of foreign ministers in Azerbaijan's capital city of Baku where they discussed ways of enhancing cooperation in the areas of commerce, energy, communications, transport and transit.
They further exchanged views on environmental issues and the fight against terrorism after a ceasefire was brokered between Azerbaijan Republic and Armenia.
Iranian Foreign Minister Mohammad Javad Zarif, Russian Foreign Minister Sergey Lavrov, and Azeri and Foreign Minister Elmar Mammadyarov and Azeri President Ilham Aliyev attended at the first meeting during which the North-South Transport Corridor and the Caspian Sea was discussed.
Struck in 2015, the nuclear deal has been facing a major challenge as U.S. President Donald Trump has declined to re-certify the agreement, sending it to Congress to address.
Russia and Iran are main backers of the Bashar al-Assad regime, whose country fell into a civil war in 2011 after his forces violently cracked down on pro-democracy protests.