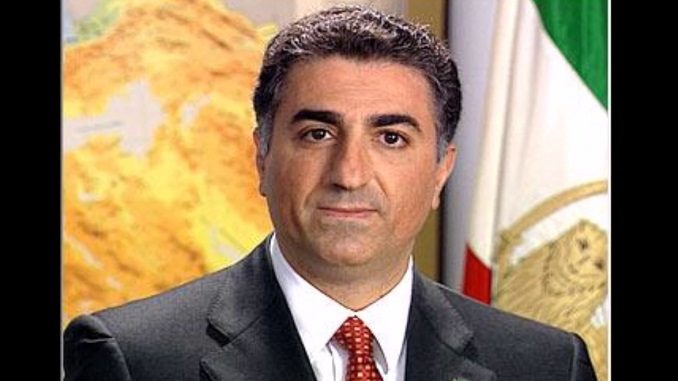 Almost 40 years ago, the Iranian Islamic revolution toppled Shah Mohammad Reza Pahlavi, who led the country for 37 years. In 1979, the late Shah's eldest son was a high school student slowly getting ready to inherit his father's throne. But history had other plans for him. The royal family was exiled, and Prince Reza Pahlavi's stay in the United States, which was supposed to last a year, turned into decades.
His father was denounced by the country's new rulers, the Islamists, who declared that any member of the family returned to Iran would stand trial.
"I'm in exile outside of my country for four decades now," Pahlavi told Haaretz this week in Washington, "and I've never been more optimistic." The recent wave of demonstrations, which has brought hundreds of thousands of young people into the streets, seems to him a "moment of truth" for change in Iran.
"There is a new young generation," he says, "they do their own research, they have access to information, they have lived for so many years under tyranny and oppression, and they won't take it anymore."
According to Pahlavi, the Iranian people no longer have any illusions that solutions to their problems can be achieved through the regime. He says the current outbreak of protests is different from previous ones.
"In the past, people put their trust in reforms and in so-called moderate candidates," he says. "And it always backfired. Young people feel they have no hope for freedom, for economic progress and employment. They say, why should we continue with this system? People say, 'Death to the dictator.' This is about much more than economic issues."
Pahlavi is acting in exile as a one-man opposition machine. He has popular accounts on social media platforms and is frequently interviewed in Farsi, English and other languages. In some of the videos emerging from the demonstrations, protesters have been heard shouting the names of his father and grandfather, which stirred emotions in him, he says.
He was in Washington this week to encourage members of Congress to act in support of the demonstrations.
"The international support component is very important to this struggle," he says. "The people are in the streets, unarmed and defenseless against a regime that is throwing thousands in jail. The international community can send a very strong message to the Iranian people and to the regime, simply by stating: We stand with these protesters. We are with them in their demand for liberty. Their voices should be heard. It's a moral duty for democratic countries to say that."