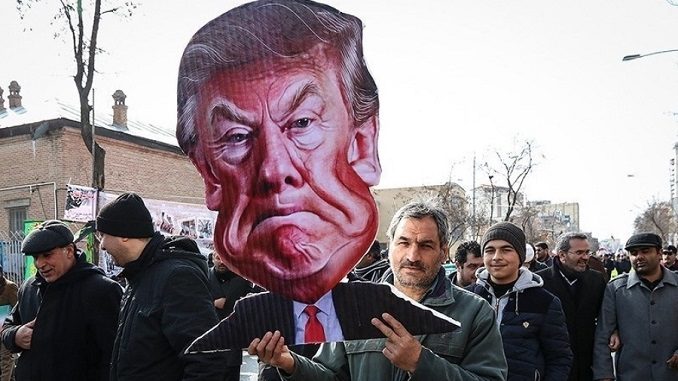 Economic protests that broke out in Iran at the end of December and turned into a demonstration of wider anti-government sentiment, rocked some 80 cities and led to at least 22 reported deaths.
Thousands of Iranians were arrested before the uprising largely dwindled a few days later. It served as the most dramatic jolt to the government in Tehran since the brutally quashed 2009 Green Movement protests, which followed a presidential election widely believed to have been rigged in favor of then-president Mahmoud Ahmadinejad.
The unrest brought a different perspective to the tense U.S.-Iran relations, mainly related to the ongoing nuclear deal with Tehran. On Friday, U.S. President Donald Trump is expected to yield to pressure, both from within his administration and from allies abroad, to once more extend sanctions relief to Iran as part of the nuclear deal with the Islamic Republic. The White House will announce its move following a meeting between Trump, Secretary of State Rex Tillerson and Secretary of Defense Jim Mattis, the Washington Post reports.
Trump, who openly dislikes the deal forged between Iran and world powers in 2015, "decertified" it in October. But he left open the question of whether the United States would re-impose sanctions on Iran that were lifted after Tehran agreed to curbs on its nuclear program.
According to experts, the sanctions would possibly lead Iran to declare the agreement null and void and restart its potential quest for a nuclear weapon. U.S. officials have suggested that, even if Trump does extend the waivers, he might seek new measures over other issues like human rights and Tehran's missile program.
Trump, as well as Washington's neoconservative establishment, sees little worth in the years of slow-moving diplomacy that led to the landmark accord, which they believe did nothing to curb Iran's provocative behavior in the region.
"We stand with the proud people of Iran because it is right, and because the regime in Tehran threatens the peace and security of the world," Vice President Pence wrote in a column for The Washington Post, directly calling out Obama for not doing the same in 2009. "That is the essence of American leadership, and as the people of Iran now know, the United States is leading on the world stage for freedom once again."
But the only thing this rhetoric tangibly achieved last week was to give Iran's leadership an excuse to pin the unrest on outside actors, chiefly the United States. The protests, which failed to take root in the capital, were not going to topple the regime. Nor was the United States, even with Iran hawks in power, going to take the extreme actions necessary to help sustain the uprising.
"Voiding the deal by reapplying sanctions now, however, would not be a solution. Instead, it would split the United States from its partners in the accord — the European Union, Russia and China — and give Iran an opening to resume nuclear activity immediately," wrote The Post in an editorial. "It would also distract from the grievances being raised by Iranian protesters by providing the regime with an external threat, an excuse for further economic failures."