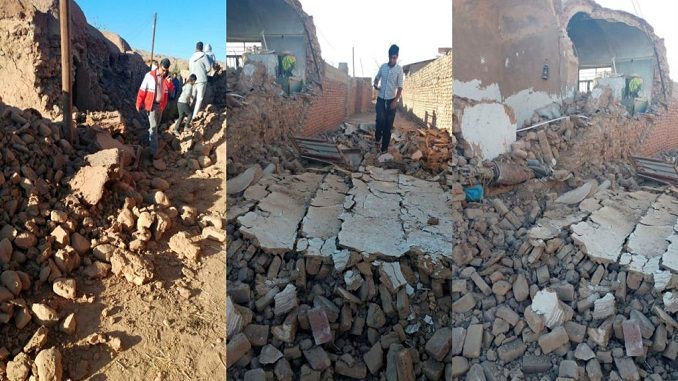 A 5.2-magnitude earthquake rocked southeastern Iran Thursday evening, less than 24 hours after a similar tremor killed one person in the capital Tehran, Radio Farda reports.
Thursday's tremor hit the Kuhbandan region, 140 kilometers north of the provincial capital of Kerman, at 8:34 pm (1704 GMT), according to the University of Tehran's Iranian Seismological Center.  Local media reported that the rural area faced power cuts but that damage was light and 23 people were injured. Rescue teams were sent to the area. No deaths were reported.
"Several rescue teams are in the quake-hit area and fortunately we had no casualties," the deputy head of Kerman Province's crisis management headquarters, Mostafa Ayatollahi-Mousavi, told the semiofficial Tasnim news agency.
The semiofficial ILNA news agency said many residents rushed out of houses in Kuhbanan, fearing more tremors after several aftershocks followed the quake, which hit three hours before midnight local time.
"Electricity has been cut off in the town… Some houses were damaged. I am urging people to remain calm. The weather is so cold and we need tents… Still, we don't have a clear idea about possible fatalities and the exact number of wounded people," Kuhbanan's police chief Mohsen Seifouri told the semiofficial Fars news agency.
Two moderately strong earthquakes also hit the Kerman region on December 1.
The epicenter of Wednesday's quake, also measuring a magnitude of around 5, was just 40 kilometers west of the capital. It killed an elderly woman and a young girl in Tehran as well as injuring around 120 people.
"A 70-year-old woman died after suffering a heart attack and a 10–year-old died of elevated stress," the head of Iran's hospital emergency services, Mojtaba Khaledi, told the ISNA news agency.
Iran sits atop several fault lines, and this week's quakes are the latest in a series to have hit the country in recent weeks.  On November 12, the western province of Kermanshah was hit by a 7.3-magnitude quake that killed 620 people.