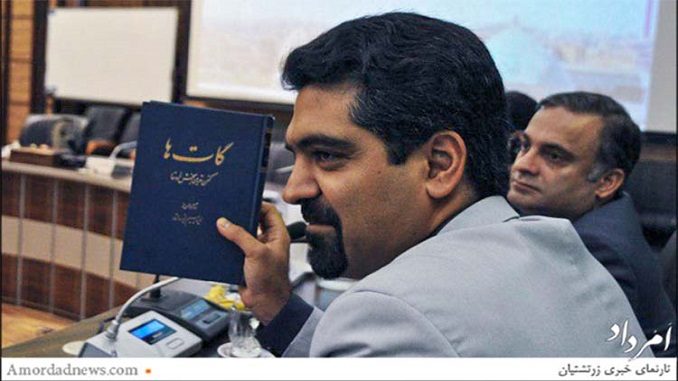 An ongoing dispute in Iran over whether religious minorities can be elected to local councils in Muslim-majority constituencies could be decided by the country's highest arbitration body, the Expediency Council.
This issue became public after the head councilman of the city of Yazd, in southeastern Iran, refused to carry out a court order suspending the membership of a fellow councilman who is a member of the minority Zoroastrian faith.
Yazd is home to some of the world's most revered Zoroastrian religious sites. Followers of the ancient pre-Islamic faith have lived in the region for thousands of years. Recognized in the Constitution, the Zoroastrian population in Iran had dwindled to about 25,000 as of 2011, according to a national census.
"In my mind and in my religion, I know this ruling is not consistent with religion, freedom or logic. This man has not done anything against religion or Islamic law during the years that he has worked as a member of this council. So what suddenly changed? How can you suddenly change the rules," said chief councilman Gholamali Sefid on October 12, 2017.
The elected official was reacting to an order issued by Branch 45 of the Administrative Court in Yazd ordering the "temporary suspension" of councilman Sepanta Niknam's membership. The order was issued in September 2017, after Ali Asghar Bagheri, a Muslim candidate who did not win a seat in Iran's May 2017 local council elections, filed a complaint. The details and exact date of the court order have not been made public.
"If this unlawful precedent is allowed to stand, it could impact all future elections," said a Zoroastrian member of Iran's Parliament, Esfandiar Ekhtiari, on September 21, 2017.
On October 18, 2017, Parliament Speaker Ali Larijani restated that removing Sepanta Niknam from his elected seat because he isn't Muslim is illegal.
"If this matter is not resolved, we have no choice but to refer it to the Expediency Discernment Council for a final resolution," said Larijani in a meeting with a group of city councilors.
Niknam, a 32-year-old economist who leads Yazd's Zoroastrian Association, was first elected to the 11-member city council in 2013 and won again four years later with more votes. He mentioned his faith during both election campaigns. Following the suspension order, the Yazd City Council met on September 21, 2017, and re-certified Niknam's membership. His fate is now in the hands of the Supreme Administrative Court in Tehran.
A month before Iran's 2017 elections for local councils and president, Ahmad Jannati, the ultra-conservative chairman of the Guardian Council—the clerical body that vets elections for conformity with Islamic principles— declared that religious minorities could not stand as candidates in Muslim-majority constituencies.
However, Article 26 of the Law on the Formation, Duties and Election of National Islamic Councils allows candidates from any of the religions recognized in Articles 12 and 13 of the Constitution: Islam, Judaism, Christianity and Zoroastrianism.
Jannati, who has likened non-Muslims to "animals who roam the earth and engage in corruption," nevertheless claimed the law is against Islam.
"You cannot do everything you like in the name of religion. The people's votes are sacred. Taking away the votes that the people cast for Mr. Niknam would violate his rights and leave a bad precedent in the name of Islam. People's rights should be respected. That's the meaning of democracy," said Mohammad Taghi Fazel Meybodi, a member of the Assembly of the Qom Seminary Scholars and Researchers, and professor of theology at Mofid University.
According to reformist columnist Masoumeh Asghari, Niknam's candidacy should have never been disputed.
"The officials don't care whether someone is Muslim or not. What people care about is whether someone is with them or not. What matters is that Sepanta Niknam has been decisively elected by both Zoroastrian and non-Zoroastrian citizens of Yazd. He is their representative," she wrote in the reformist Sharg Newspaper.