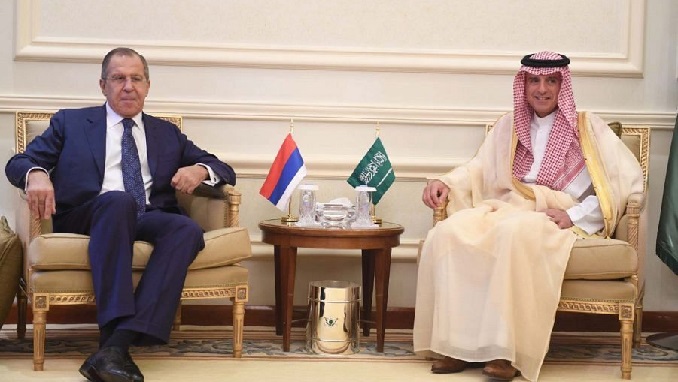 The Saudi king and Russia's foreign minister have met in Saudi Arabia ahead of a possible visit by the monarch to Russia next month. Saudi Arabia's state news agency says King Salman and Russian Foreign Minister Sergey Lavrov on Sunday discussed the war in Syria and an Arab diplomatic crisis with Qatar.
Saudi Arabia supports Sunni rebels fighting the Syrian government, which is backed by Russia and Shi'ite-ruled Iran. Lavrov is scheduled to visit Jordan next, after last month meeting leaders in Kuwait, the United Arab Emirates, and Qatar.
Analysts say that Saudi Arabia wants Russia to counter the rise of Syrian President Bashar al-Assad's main backer, Iran. Iranian-backed fighters, including the Lebanese Hezbollah militia, have played a major role in the Syrian president's comeback. For the Saudis, "the regime is no longer an issue, even the president is no longer an issue," said Mustafa Alani, head of the defense and security department at the Gulf Research Centre in Dubai.
"The problem is the question of the Iranians on the ground. The U.S. and Israel are also now arguing that "the Russians should work to end the presence of Iran in Syria," Alani said.
Israeli Prime Minister Benjamin Netanyahu warned on Aug. 28 that Iran is producing precision missiles at factories in Syria and Lebanon. On Thursday, al-Assad's government blamed Israel for an air strike on a military position in northwest Syria.
Russia sees Iran as a strategic ally in the Middle East, whereas for the Saudis it's a regional rival. Still, their interests could overlap, according to Yury Barmin, a Middle East expert at the Russian International Affairs Council, a Moscow-based research group set up by the Kremlin.
"The hard power on the ground in Syria is Russia and it's calling the shots," he said. "But the Russians are working to contain Iran's influence, and this issue is something they could talk about" with the Saudis.