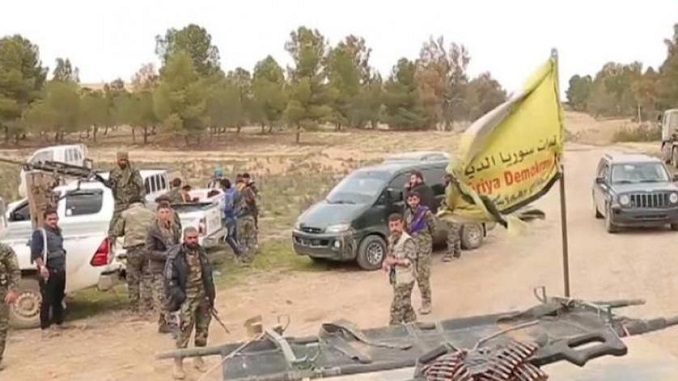 Tehran continues its pressure on the Syrian regime in Damascus to go into a military confrontation with the Washington-backed Syrian Democratic Forces, a largely Kurdish group, Kurdish sources told Asharq Al-Awsat.  Sources cited the Syrian Deputy Foreign Minister Fayssal al-Miqdad labeling the SDF, in an interview with an Iranian television, a terrorist organization.
Iran has sided with the Syrian regime in the six-year civil war and is at odds with Kurdish people seeking to cement autonomous rule in areas under their control. For their part, the Kurdish People's Protection Units stepped up patrols in areas in eastern and northern Syria and reinforced their points with additional troops, fearing moves by Arab tribesmen who rejected the Kurds' dominance after the regime ordered them to do so.
Regime head Bashar al-Assad labeled the SDF, backed by the U.S.-led coalition, as "traitors" which later provoked a response in which Kurdish leaders called Assad a "terrorist." Sources pointed out that the regime began to open channels of communication with Arab tribes in the country's east, inciting them to rebel against Kurdish "units".
On the other hand, the eighth round of consultations in Astana on the Syrian crisis is currently underway. The talks held in Kazakhstan's capital kicked off with the participation of UN special envoy on Syria Staffan de Mistura and representatives from both the United States and Jordan. The Kazakh Foreign Ministry said that the delegations of guarantor states had confirmed their participation in the current round of consultations.
Sources predicted that Astana 8 would shift from focusing on military concerned topics, which had been the main theme of the Astana process since its start, to issues such as political settlement. It is expected that the Syrian National Dialogue Conference which took place in Sochi will be a highlight in Astana. Kazakhstan is hosting negotiations that aim to end the Syria crisis. Discussions in the past few months have focused on establishing de-escalation zones in Syria.
Syria's opposition on Thursday said it was more important "than ever before" that Russia push Bashar al-Assad's government towards a political settlement, as new peace talks kicked off in Kazakhstan.
"We are asking the Russian side, now more than ever before, to put pressure on the regime to push it towards a political settlement. The detainees are the priority for the military delegation. We will focus on this cause with the Russian delegation," the Syrian opposition delegation said in a statement after meeting with a United Nations team.
Kurdish-led Syrian groups plan to attend Russia's proposed Syria peace talks in the Black Sea resort of Sochi, Kurdish officials have said. If the invitation is renewed, "we will attend Sochi and every other meeting that concerns the Syrian crisis as representatives of the people's will" Sihanouk Depo, an official of Syria's main Kurdish party, PYD, told an affiliated website on Wednesday.
"We are still invited. If the framework for the Congress still stands, we will attend," Badran Jia Kurd, an adviser to the administration that governs Kurdish-led autonomous regions of Syria, told Reuters on Thursday.
It would mark the first time Syria's main Kurdish groups are brought into peace talks. Although they now run at least a quarter of Syria, they have so far been left out of international talks in line with Turkish wishes.
Meanwhile, civil war-ridden Syria's President Bashar al-Assad on Monday called Kurdish units and their affiliates battling the Islamic State (IS) group "traitors" for having allied with the United States.
Assad's accusation, with the war against IS coming to an end, and Damascus regime's reassertion of control over vast swathes of land it captured from armed opposition, signaled a collision course between his government and the U.S.-backed Kurds, two sides that avoided a sustained confrontation for much of the war.
"All those who work under the command of any foreign country in their own country and against their army and people are traitors, quite simply, regardless of their names, and that is our evaluation of the groups that work for the Americans in Syria," Assad said.
Although Assad did not name any group, his remarks appeared to target the Kurdish People's Protection Units (YPG) and its multi-ethnic surrogate Syrian Democratic Forces (SDF) that the U.S.-led Coalition to counter the IS view as their most effective and trusted partners on the ground.