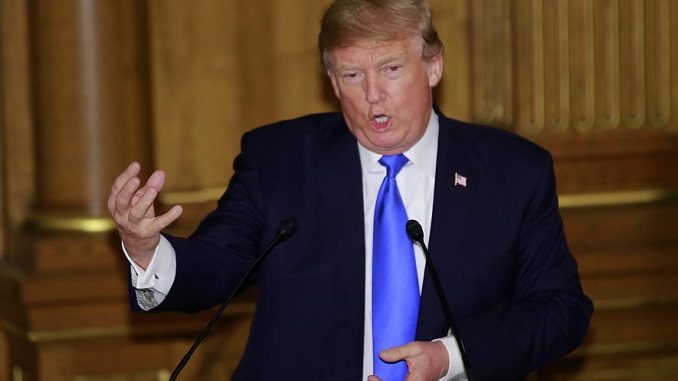 U.S. President Trump notified Congress on Monday that he was extending the national emergency with Iran that has been in place since the 1979 hostage crisis, saying relations with the Islamic regime have not normalized, The Washington Times reports.
Previous presidents routinely extended the national emergency, which otherwise expires on the Nov. 14 anniversary of the original declaration. But for Trump, the notice underscores his administration's tense relation with Iran.
"Our relations with Iran have not yet normalized, and the process of implementing the agreements with Iran, dated January 19, 1981, is ongoing. For this reason, the national emergency declared on November 14, 1979, and the measures adopted on that date to deal with that emergency must continue in effect beyond November 14, 2017," Trump wrote Congress in the formal notice.
The 1981 agreement with Iran arranged for the release of 53 American hostages taken at the U.S. Embassy in Tehran in November 1979 when Islamic militants overthrew the government.
The U.S. national emergency with respect to Iran was first declared on Nov. 14, 1979. At least 11 executive orders were based on this emergency state. The emergency, renewed in 2016 for the 36th year, is the "oldest existing state of emergency." The renewal of the emergency was equal to the continuation of non-nuclear U.S. sanctions against Iran.
This state of emergency reportedly gives "extraordinary powers" to the U.S. president to seize property, call up the National Guard and hire and fire military officers at will.
Last month, Trump decertified the Iran nuclear deal brokered by the Obama administration, leaving it to Congress to decide whether to reimpose sanctions. The administration also slapped separate sanctions on the country's Islamic Revolutionary Guard Corps, designating it as a terrorist organization.
International monitors said that Iran was meeting the conditions of the agreement to suspend its nuclear weapon program. Trump said Iran was not living up to the spirit of the deal and continued to back terrorism and act to destabilize the Middle East. Iran ranks as the world's largest state sponsor of terrorism. The United States has been in an uninterrupted state of national emergency since 1979. In 2014, they were not dealing with just one emergency – but 30 of them in effect.
That's according to data on presidential declarations of emergency compiled by Gregory Korte of USA Today.
"Those emergencies, declared by the president by proclamation or executive order, give the president extraordinary powers — to seize property, call up the National Guard and hire and fire military officers at will," Korte writes.
Former U.S. President Obama has declared nine, eight of which are currently in effect, they primarily deal with preventing business with people or organizations involved in global conflicts or the drug trade. Obama has also renewed many of his predecessors' orders, just last week he renewed our ongoing state of emergency with respect to Iran.
Ronald Reagan and George H.W. Bush took a light touch on declarations of emergency – they invoked only a handful, none of which remain in effect. But Bill Clinton proclaimed 16 emergencies and George W. Bush declared 14, 13 of which are still in effect today.
Since 1976, when Congress passed the National Emergencies Act, presidents have declared at least 53 states of emergency, not counting disaster declarations for events such as tornadoes and floods, according to a USA TODAY review of presidential documents. Most of those emergencies remain in effect.
Even as Congress has delegated emergency powers to the president, it has provided almost no oversight. The 1976 law requires each house of Congress to meet within six months of an emergency to vote it up or down. That's never happened.