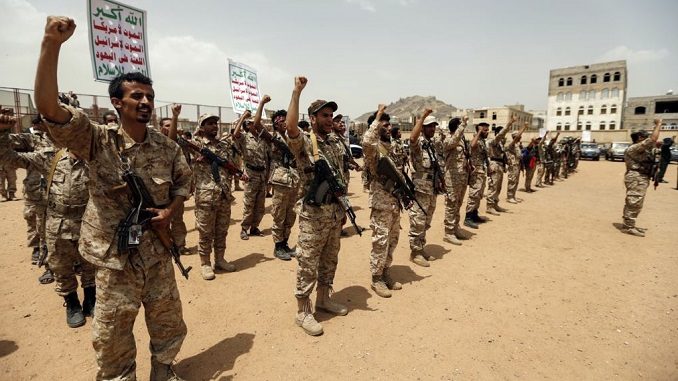 The U.S. has promised to aid Saudi Arabia in neutralizing "Iran's destabilising influence" and battle extremism in the Middle East, the Pentagon has announced.
"We continue to maintain strong defense ties with the Kingdom of Saudi Arabia and work together on common security priorities to include combat operations against violent extremist organizations, and neutralizing Iran's destabilising influence in the Middle East region," Marine Major Adrian Rankine-Galloway said.
The Pentagon backed the claims revealing Iran's "malign role in Yemen and its provisions of dangerous missile systems to Houthi militants." The statement also backed defense links between the allies following Saudi Arabia's decision to blockade Yemen's ports to stop weapons coming in from Iran. The Pentagon statement came after Saudi Arabia and Iran exchanged accusations over the thwarted missile attack on November 4, which Tehran said was in retaliation for "war crimes" against Huthi rebels by a Saudi-led coalition that has provided air support for Yemen's government in the country's civil war.
A coalition led by Saudi Arabia have closed all access to Yemen following a rocket attack on Riyadh, reports claim. The coalition closed off land, sea, and air access to Yemen on November 6 after the ballistic missile targeted Riyadh. It said the temporary closings would "take into account" the work of humanitarian groups. Reuters reported, however, that the United Nations was not allowed to send two scheduled humanitarian flights into the country on November 6. The UN has repeatedly criticized the coalition for blocking aid access and has estimated that 7 million people in Yemen are on the brink of famine.
The Houthi-run news agency Saba warned that the blockade would have "catastrophic consequences," Reuters reported.
The missile attack, thought to have been launched by Shi'ite Houthi fighters, was manufactured by Iran, Saudi Arabia claimed. They said the attack was a "clear act of aggression" by Iran and "could rise to be considered an act of war." According to reports, the Saudi-led coalition launched several airstrikes on Houthi positions across war-affected Yemen after Houthi rebels fired a ballistic missile at Riyadh that was intercepted near the Saudi Arabian capital.
The Saudis said they shot down the missile before it hit its target. Iran countered the Saudi accusations by saying rebels fired the missile in retaliation for Saudi "war crimes" and that the accusations by the coalition were "unjust, irresponsible, destructive, and provocative."