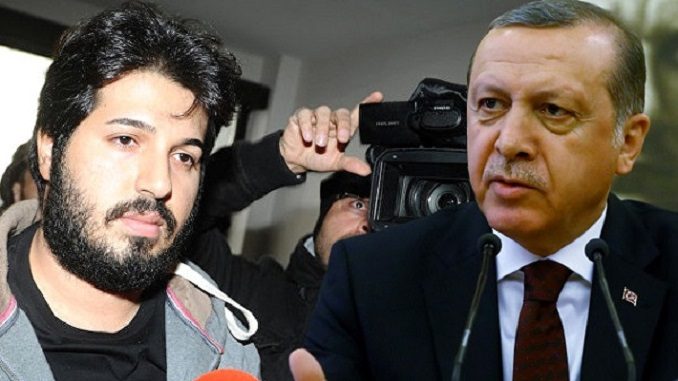 Turkey's prime minister personally ordered the resumption of a scheme to launder billions of dollars in Iranian oil revenue and circumvent U.S. sanctions in 2014 after an investigation into the matter was quashed, a government witness testified at a New York trial as quoted by Bloomberg.
The witness, gold and currency dealer Reza Zarrab, didn't specify who was prime minister, though he appeared to be referring to Recep Tayyip Erdogan, who occupied the office until late August of 2014 when he became president. Zarrab was testifying about a series of text messages between himself and his lawyer that took place in June of that year. Zarrab's testimony has previously implicated Erdogan.
Zarrab said on the witness stand Thursday that he learned from his Turkish lawyer that the prime minister ordered the restart of the operation after Zarrab encountered resistance to it at Turkiye Halk Bankasi AS, a large Turkish state-owned bank that was central to the operation. Zarrab also said Erdogan's son-in-law, Berat Albayrak, who is now Turkey's energy minister, also supported the plan.
"He is saying that he would meet with the prime minister," Zarrab explained about the texts, "and that the order to start would be given." In one message, Zarrab's attorney refers to Albayrak as "the groom" and says Albayrak told him: "This job should definitely be done."
The testimony came on Zarrab's seventh and final day on the witness stand. Once the main defendant in a case accusing nine people of a conspiracy to help Iran circumvent U.S. sanctions, Zarrab secretly pleaded guilty weeks before the start of trial and agreed to cooperate with the prosecution, becoming a key witness for the government.
Over the course of his testimony, Zarrab laid bare the intricate system that was used to help Iran access billions in overseas oil sales revenue that was piling up in banks beyond its reach as the U.S. ratcheted up sanctions against the country in response to its nuclear program. Zarrab, along with Halkbank executives, his employees and others, moved Iran's money out of Turkey and other countries by disguising it as unrelated gold trading or food supplies, and used it to make international payments on Iran's behalf — sometimes running it through banks in the U.S. in the process.
From the witness stand, he implicated the lone defendant on trial, Halkbank executive Mehmet Hakan Atilla, as well as other bank executives and senior Turkish government officials, and said he paid tens of millions of dollars in bribes to make it happen. All the other defendants in the case remain overseas and have avoided U.S. arrest.
Zarrab told a Manhattan jury Wednesday that he was surprised to learn in March that Turkish banker Mehmet Hakan Atilla had been arrested for allegedly scheming to violate U.S. sanctions against Iran and said also that he lied to Atilla about the scheme prior to his own arrest a year ago.
The case has strained relations between the U.S. and Turkey, which has long been viewed as a key American ally in the Middle East. Erdogan, who suppressed a Turkish corruption investigation into the allegations in 2014, has personally appealed to both the Obama and Trump administrations to drop the case. He has cast it as an American attempt to undermine Turkey's economy.
Zarrab's testimony about the prime minister was just one of Thursday's surprising revelations, after days of grinding questioning and cross-examination.
Zarrab testified last week that in an earlier phase of the laundering operation for Iran, Erdogan gave his blessing and ordered that two other Turkish banks be cut in on the action. In court filings, federal prosecutors have cited wiretapped phone conversations in which Zarrab invoked Erdogan's name in furtherance of the scheme.
But Zarrab's testimony Thursday was the first time he connected the resumption of the laundering scheme to the country's leaders after Zarrab was released from Turkish jail and the charges there were dropped. Just prior to offering that in court, under questioning from prosecutor Sidhardha Kamaraju, Zarrab described how he won his release from jail.
"I made payments, and partially they were bribes," he said.
Zarrab was trying to restart the laundering business, but the new general manager of Halkbank, Ali Fuat Taskinoglu, told Zarrab to talk to lower-level bank employees who were asking for extensive documentation. So Zarrab's lawyer sought a meeting with the prime minister to sort it out. After the prime minister was apprised of the holdup at Halkabank, Zarrab said he was told by his lawyer that "your old system would be restarted again."
Zarrab did successfully revive the laundering system, which he testified remained in operation right up until the time of his arrest in Miami in March 2016, as he arrived in the U.S. for a family trip to Disney World.