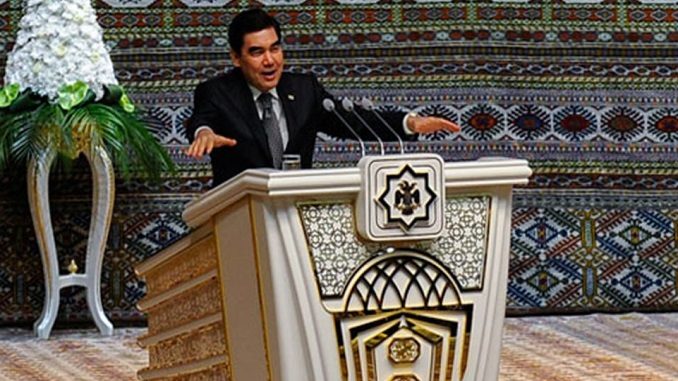 Turkmenistan plans to take a dispute with Iran over gas supplies to international arbitration over $1.8 billion Ashbagat says Tehran owes for deliveries of natural gas, a report said as quoted by Tasnim News. The energy-rich Central Asian state halted shipments of natural gas to Iran at the start of the year, saying Iran owed for supplies it never paid for.
Turkmen President Kurbanguly Berdymukhamedov discussed the issue with Myrat Archayev, head of state gas firm Turkmengas, Turkmen state news agency TDH said on Tuesday. Archayev told Berdymukhamedov that talks had fallen through and the Iranian side had proposed taking the matter to arbitration, according to the report. Berdymukhamedov ordered him to proceed with the filing.
Turkmenistan cut off gas supplies to Iran on January 1, saying Iran should clear its outstanding debts. Later, Turkmenistan's Foreign Ministry said in a statement that the Central Asian country is ready to continue gas talks with Iran, but also has the right to take the dispute to arbitration.
The statement also claimed that Iran's debt stemmed from the National Iranian Gas Company's failure to abide by the "take or pay" provision of the gas supply contract.
Iran has imported natural gas from Turkmenistan since 1997 for distribution in the north of the country, furthest from the gas resources in the south. Turkmens occasionally raise their prices in the wintertime. In 2006, during days of freezing temperatures and blizzard in Iran, Turkmenistan cut off gas shipments and demanded a nine-fold price increase. Iran eventually accepted the higher prices for a short period.
Ashgabat claims Iran owes it $1.8 billion from sales between 2007 and 2008 when freezing winters led to severe shortages across 20 Iranian provinces, forcing the country to raise gas imports from its northeastern neighbor.
At the time, Turkmenistan pounced on the occasion to demand a nine-fold hike which yanked the price up to $360 from $40 for every 1,000 cubic meters of gas. According to Turkmen officials, the balance has built up to a debt of $1.8 billion which Iran is rejecting and has threatened to take the case to international arbitration.
Iran last December said it had paid off its debt "and the remaining cases have to be reviewed and decided by experts," Reuters added. In January, the National Iranian Gas Company (NIGC) – the company in charge of the country's gas sector – said a plan was on agenda to file a lawsuit against Turkmenistan over stopping gas exports to Iran.
Iran has its own major gas fields in the south of the country but has imported gas from Turkmenistan since 1997 for distribution in its northern provinces, especially during the winter. The Managing Director of the National Iranian Gas Company (NIGC) Hamid Reza Araghi welcomed the move, saying Iran and Turkmenistan both "have claims that need to be addressed".
"NIGC would welcome it if Ashgabat prefers to resort to international arbitration for settling the row. However, Iran always prefers dialogue to resolve disputes," Araghi told Iranian Oil Ministry's website SHANA.
After sanctions imposed on Iran were lifted last year under a 2015 nuclear deal between Iran and six major powers, France's Total signed a deal with Tehran to further develop its part of the world's largest gas field.
Meanwhile, Turkmenistan faces a shortage of hard currency after Russia, once a major buyer of its gas, halted purchases last year. With the cutoff of supplies to Iran, Ashbagat is now left with China as its sole customer.