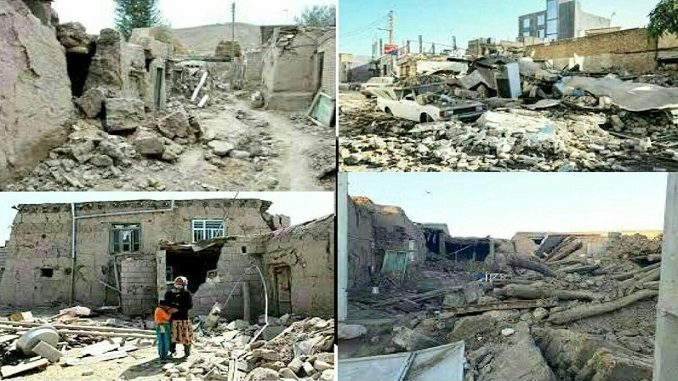 Less than three weeks after a deadly earthquake hit Iran's western province of Kermanshah, a temblor measuring 6 on the Richter scale struck a southeastern area near the city of Kerman on Friday morning, but caused no casualties, Tasnim News reports.
Three earthquakes hit in quick succession early Friday, the first a fairly strong magnitude 6.0 tremor that struck at a shallow depth close to Kerman. It was followed by two less powerful 5.0 and 5.1 aftershocks in the same area according to United States Geological Survey (USGS). The University of Tehran's seismology center gave slightly different figures, announcing an earthquake of 6.1, followed by aftershocks of 5.1 and 4.
The epicenter of the Friday morning earthquake was a mountainous region 58 km northeast of the provincial capital, Kerman, a historical city with a population of more than 3 million. The quake occurred at 02:32 UTC at a depth of 10 km, according to USGS. Head of Relief and Rescue Organization of Iran's Red Crescent Morteza Salimi told state television that at least 42 people were wounded.
The closest Iranian cities to the quake center are Kerman, Zarand, and Ravar. Tasnim dispatches say the quake has destroyed a number of houses in rural areas, causing power cut and forcing people to remain outdoors. Speaking to Tasnim on Friday morning, governor of Ravar said no loss of life has been reported so far.
"Assessment teams are surveying the earthquake-stricken areas and villages in Kerman," IRNA quoted Mohammad-Reza Mir-Sadeqi as saying.
Local officials said several people were wounded in the tremor, which has affected eight villages, but there have been no reports of fatalities so far. Governor of Kerman's Ravar County Mohammadreza Mir-Sadeghi said rubble has blocked roads in the affected areas.
"For the moment, no deaths have been reported but there has been destruction in several villages," Hossein Ali Mehrabizadeh, an official with the crisis unit in Kerman, told state television.
But residents of the city came out into the street as the quake struck, and motorists were seen rushing to stock up on petrol, according to local media. Kerman's crisis center was activated, and rescue teams from the Red Cross and local authorities headed to affected areas for preliminary evaluations, a local official told state television.
The tremor struck about 200 kilometers from the ancient city of Bam, which was decimated by a powerful earthquake in 2003 that left around 26,000 people dead. The quake follows a massive temblor that hit Kermanshah on November 12, killing more than 480 people and injuring around 10,000 others.
Iran is one of the most seismically active countries in the world, being crossed by several major fault lines that cover at least 90% of the country. In 1990, a 7.4-magnitude quake in northern Iran killed 40,000 people, injured 300,000 and left half a million homeless, reducing dozens of towns and nearly 2,000 villages to rubble. In 2003, a magnitude 6.6 earthquake in the province of Kerman flattened the historic city of Bam, killing more than 26,000 people. Iran has experienced at least two other major disasters in recent years – one in 2005 that killed more than 600 people and another in 2012 that left some 300 dead.