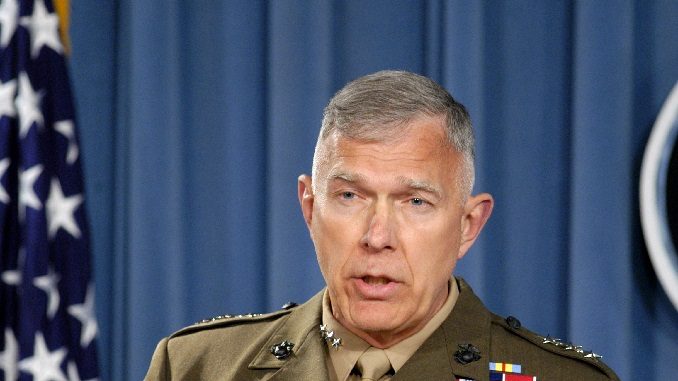 General James Conway issued a statement that the Islamic Republic of Iran is actively providing aid to terrorists around the world so they can carry out brutal massacres in the U.S. and European cities.
General Conway, who was the commander of the U.S. Marine Corps from 2006 to 2010, commended U.S. President Donald Trump's approach to the regime. In October, Trump vowed to decertify the nuclear accord – officially the Joint Comprehensive Plan of Action (JCPOA) – saying that Tehran was not complying with the terms of the nuclear deal.
Speaking to Daily Star Online, General Conway said he is "not surprised" at evidence that has recently emerged that Iran is providing support for Al-Qaeda. This alliance was laid bare in a recently-released trove of documents that were found in September 11 mastermind Osama bin Laden's Pakistan hide-out in 2011.
"I am not surprised at all [that Iran is supporting Al-Qaeda]. Iran is one of the four states that has not given up on using terrorism as a source of national power. I think Tehran regime will resort to any nefarious means that they think is useful in their efforts. Although they might seem to be dogs and cats in regards to origins of Al-Qaeda and in light of Iran being a Shi'ite country, but for the Iran regime, it is finding common bed-fellows against a common cause and an enemy," he stated.
General Conway also addressed a conference in Paris this weekend that was organized by the People's Mojahedin Organisation of Iran (PMOI), which has repeatedly cast blame on Iran of exporting Islamist fundamentalism around the world.
The PMOI is the largest and most active opposition movement in Iran that supports a totally secular political system in the country. The organization was also the first to expose the very existence of Iran's nuclear programme two decades ago.
General Conway also warned of potential attacks during holidays and anniversaries of significant events – such as the Twin Towers attacks.
"I am always worried about [attacks]. I do not have any specific information but whenever you get around the holiday season, anytime you are around 9/11 – I mean special dates in their perspective – you cannot drop your guard. Al-Qaeda, ISIS, and groups like that like nothing more than striking a major strike inside the U.S.," he stated.