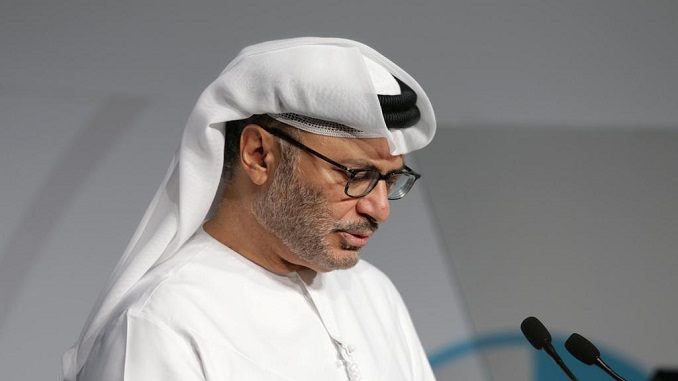 UAE's Minister of State for Foreign Affairs said on Wednesday that the Arab world must come together under Saudi-Egyptian leadership to combat Iranian and Turkish influences in the region, The National reports.
"The world is at an impasse, and the solution is to co-operate in the face of surrounding regional ambitions. The sectarian and partisan approach is not an acceptable alternative. The Arab world will not be led by Tehran or Ankara. The geostrategic competition taking place in the region calls for strengthened Arab [unity] with Riyadh and Cairo as its pillar," said Dr Anwar Gargash on Twitter.
Saudi Arabia and Iran have for decades stood on opposing sides of conflicts in the Middle East, including in Yemen and Syria — where Iran-backed Hizbollah militiamen are fighting alongside forces loyal to Syrian president Bashar Al Assad. Another point of contention is Ankara's warming ties with Tehran and support for Qatar, which Saudi Arabia, the UAE, Bahrain and Egypt have boycotted over allegations it supports extremism in the region.
Iran welcomed Doha's refusal to meet the demands of the Arab quartet and opened up their airspace and trade routes. The four Arab countries stand firm by their decision to boycott Qatar, saying they are willing to re-establish communications with Doha only if it adheres to regional and international agreements and the demands and principles they have issued.
Doha has so far refused to meet the quartet's 13 demands, which included the closure of Qatar-owned Al Jazeera news channel — which the quartet says provides a platform for extremists and dissidents — and the shutting down of a permanent Turkish military base in the country.
Just weeks after the boycott was announced on June 5, Turkey expedited a military co-operation deal with Qatar and deployed troops to take position in the first permanent base in the Gulf since the fall of the Ottoman Empire.
The U.A.E. call for unity under the flag of the Arab world's most powerful nations comes at a time of intensified rivalry for regional hegemony between Saudi Arabia and Iran, as played out in a series of proxy conflicts across the Middle East. Turkey's warming ties with Iran and support for Qatar in its dispute with a Saudi-led group of Arab states have been another point of contention.
Earlier this week, Turkish President Recep Tayyip Erdogan feuded with the U.A.E. over another minister's derision of a legendary Turkish officer, whom he referred to as "Erdogan's ancestor."
Dr Gargash's statements also follow Turkish president Recep Tayyip Erdogan's visit to Sudan, where the countries agreed on building a port on the Red Sea to service civilian and military ships, according to Turkey's state-run Anadolu news agency.
The agreement was signed as the U.A.E. seeks to expand its military reach in the Red Sea and the Horn of Africa coast.