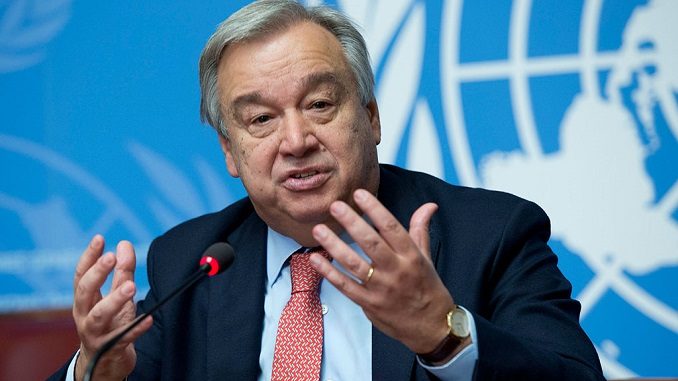 UN Secretary-General Antonio Guterres has appealed to Iranian President Hassan Rouhani for the release of an American-Iranian dual citizen and former UNICEF official, Baquer Namazi, a UN spokesman said on Thursday. Guterres and Rouhani met on Monday, September 18, on the sidelines of the UN General Assembly.
"The Secretary-General did raise the issue and again appealed for the release of Baquer Namazi on humanitarian grounds," Reuters cited UN spokesman Stephane Dujarric, as saying.
Last October, an Iranian court sentenced Baquer Namazi, 81, and his 46 years old son, Siamak, to 10 years in prison on charges of spying and collaborating with the United States, Radio Farda reports.
"Siamak and his father, Baquer Namazi, were informed on Monday, August 28, that their appeal has been denied," their Washington based lawyer, Jared Genser said on August 28.
A week later, Tehran's Prosecutor-General, Abbas Ja'fari Dowlatabadi confirmed Namazis' appeal had been denied. The court's decision comes as both Siamak and his octogenarian father, suffer health problems related to their incarceration in Tehran's notorious Evin Prison, where the Islamic Republic's political detainees are held. Baquer Namazi was rushed to a hospital in Tehran on Monday, September 18, five days after a cardiologist recommended that he be taken immediately to a cardiac-care unit for tests, Namazi's younger son, Babak said in an interview in New York City.
Namazi senior was given a pacemaker on Tuesday, shortly before President Trump demanded that Tehran release all Americans and other foreigners he described as unjustly detained in the Islamic Republic.
Prior to his meeting with Rouhani on the sidelines of UNGA, Guterres had written a confidential letter to the Islamic Republic, calling upon him to release the elderly Namazi.
The Namazi family fled Iran after the 1979 Islamic Revolution, but kept business ties there. Later, Dubai based Siamak Namazi went back to Iran to visit his family but was arrested in late 2015 following bitter criticism by hard-liners over his alleged advocacy for improved Iran-U.S. ties.
Siamak's father is a former UNICEF representative who served as governor of Iran's oil-rich Khuzestan Province under Mohammad Reza Shah Pahlavi. He was arrested after traveling to Iran seeking his son's release. At least two other U.S. citizen or permanent residents are imprisoned in Iran, and a third, former FBI agent, Robert Levinson has been missing for a decade.
Since 1980, when 52 American diplomats were taken hostage by the Islamic revolutionary students in Tehran, the United States does not have diplomatic relations with Iran, so it has asked Switzerland, the U.S. protecting power in Iran, and other countries with embassies in the country to urge Tehran to release Baquer Namazi and other U.S. citizens and permanent residents, Washington Post reported on Wednesday, September 20.