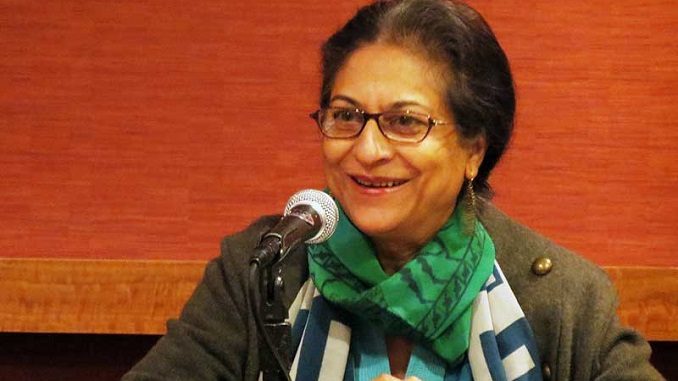 Internationally renowned and leading Pakistani human rights advocate Asma Jahangir has died, a family member said Sunday, in a stinging blow to the country's embattled rights community. She was appointed United Nations Special Rapporteur for human rights in Iran in September 2016 and delivered regular reports on the prevailing situation in the country to UN bodies, RFERL reports.
Jahangir, who was 66, died of cardiac arrest, according to her sister.
"Unfortunately we have lost her," Hina Jilani, also a prominent rights activist told AFP.
Jahangir's supporters and former opponents alike took to social media to offer their condolences and expressed shock at the news of her death.
"Asma Jahangir was the bravest human being I ever knew. Without her the world is less," wrote prominent Pakistani lawyer Salman Akram Raja.
"I and many others didn't agree with some of her views. But she was a titan. And one of the brightest and bravest ever produced by this country," wrote journalist Wajahat Khan on Twitter.
Jahangir received France's highest civilian award in 2014 and Sweden's alternative to the Nobel Prize for her decades of rights work. Few Pakistani rights activists have achieved the credibility of Jahangir. She braved death threats, beatings, and imprisonment to win landmark human rights cases and stand up to dictators.
Jahangir secured a number of victories during her life, from winning freedom for bonded laborers from their "owners" through pioneering litigation to a landmark court case that allowed women to marry of their own volition.  She has also been an outspoken critic of the country's powerful military establishment, including during her stint as the first-ever female leader of Pakistan's top bar association. She was arrested in 2007 by the government of then military ruler Pervez Musharraf, and in 2012 claimed her life was in danger from the country's feared Inter-Services Intelligence (ISI) spy agency.
UN Secretary-General António Guterres on Sunday expressed his sorrow at the demise of prominent human rights defender and UN Special Rapporteur Asma Jahangir, who passed away at the age of 66.
"We have lost a human rights giant. Asma was brilliant, deeply principled, courageous and kind […] She will not be forgotten," Guterres said in a statement, expressing his condolences to Jahangir's family, friends, and colleagues, including in the UN and civil society.
Jahangir was the current UN Special Rapporteur on the situation of human rights in Iran, having assumed the position on 1 November 2016. Earlier, from 1998 to July 2004, she was the Special Rapporteur on extrajudicial, summary or arbitrary executions, and from August 2004 to July 2010, the Special Rapporteur on freedom of religion or belief.
The Office of the UN High Commissioner for Human Rights (OHCHR), which supports Special Rapporteurs and independent experts in the discharge of their mandate, also expressed its sadness at Jahangir's passing.
"She was a legendary human rights defender: pioneering, determined, calm, courageous – and a lovely human being," the office said in a tweet posted on its official account.
UN Special Rapporteurs and independent experts are appointed by the Geneva-based Human Rights Council – the highest UN intergovernmental body on all matters related to human rights – to examine and report back on a specific human rights theme or a country situation. The positions are honorary and the experts are not UN staff, nor are they paid for their work.