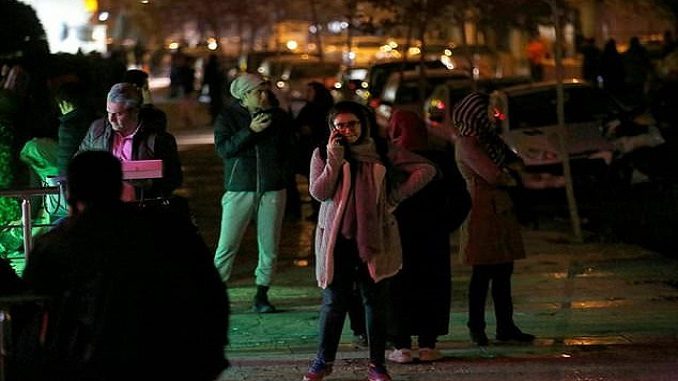 A magnitude 5.2 earthquake jolted a town near the Iranian capital on Wednesday, according to state television. The quake caused people in buildings to pour out into the streets in fear, Mehr News reports.
The quake hit Malard, about 40 kilometers southwest of Tehran, at 23:28 Wednesday local time. Its depth was 7 kilometers, according to the Associated Press. While Iranian state TV put its magnitude at 5.2, the U.S. Geological Survey later said it was a 5.0 quake. The quake was felt in several cities in Iran's north, including Tehran. The quake was also felt in the provinces of Karaj, Qom, Qazvin, and Arak. Authorities said rescue teams were sent to the site.
Head of the Relief and Rescue Organization of the IRCS Morteza Salimi said the earthquake left 1 dead and 97 casualties in different parts of the country which the earthquake was felt.
"Ninety-seven people were injured – 50 in Alborz, 34 in the capital and 12 in Saveh," said Salimi.
According to the governor of Malard, Bahman Khatibi, one pregnant woman lost her life and 20 others were injured in the city as they tried to escape the quake in panic. Her death was reported early Thursday.
In Tehran and other cities, residents flooded into streets and parks, fearing a stronger aftershock. Some set up tents to spend the night outside and lit fires. Flights into and out of Tehran Mehrabad Airport are unaffected, despite the earthquake, Aviation Iran said.
Tasnim news agency quoted Minister of Sports Masoud Soltanifar as saying sports centers in the city of Karaj in Alborz province, and Eslamshahr in southern Tehran were open to the public to spend the night. Some people also took refuge at the mausoleum of Ayatollah Ruhollah Khomeini, the founder of the Islamic Republic of southern Tehran.
Minister of Energy Reza Ardakanian was quoted by ISNA news agency as saying that Amirkabir Dam, one hour west of Tehran, remained intact and supply of water and electricity was not disrupted in any way. Schools, universities and government offices will be closed in Tehran, Alborz and Qom provinces on Thursday, according to the state television.
More than a dozen aftershocks rippled through the area after the quake, and many Iranians braved the cold to spend the night outside. The head of Iran's Seismology Institute says the risk of a major earthquake in the capital city of Tehran has decreased as several weak aftershocks were registered following a magnitude 5.2 tremor, which affected six Iranian provinces.
Ali Moradi said seven 2-3 magnitude aftershocks have been registered in Tehran so far, adding, "There is no more concern for larger tremors" after the major quake occurred, IRNA reported on Thursday.
Meanwhile, police forces, firefighters, rescue operation teams and crisis management bodies in the six quake-hit provinces are on alert. They have urged people to remain calm, but cautious. The head of Tehran's Crisis Management Organization, Ahmad Sadeghi, had earlier told reporters that "the earthquake can have more aftershocks. The aftershocks can even be more powerful. The Crisis Management Organization calls on people to stay vigilant and move to nearby safe places."
Iran is prone to earthquakes as it sits on major fault lines. In November, a 7.2 magnitude killed more than 600 people in western Iran. In 2003, a 6.6 magnitude quake flattened the historic city of Bam, killing 26,000 people.