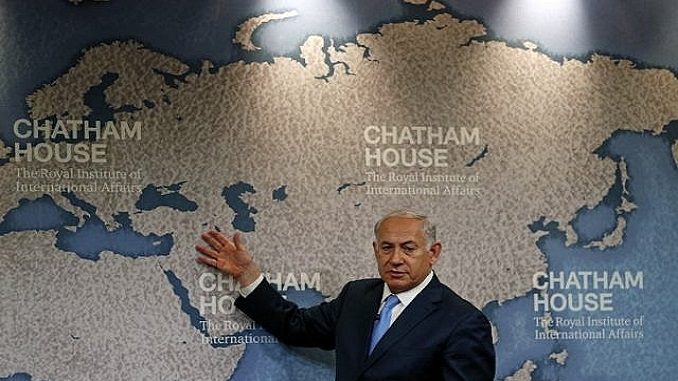 Israeli Prime Minister Benjamin Netanyahu on Saturday warned that Lebanese Prime Minister Saad Hariri's resignation should be a "wake-up call" to the international community to the threat posed by Iran's regional ambitions, which he said endanger not only Israel but the entire Middle East.
"The resignation of Lebanon's Prime Minister Hariri and his remarks [on Iran] are a wake-up call to the international community to take action against the Iranian aggression, which is turning Syria into a second Lebanon. This aggression endangers not only Israel but the entire Middle East. The international community needs to unite and stand against this aggression," tweeted Netanyahu from London.
Defense Minister Avigdor Liberman warned Lebanon would become like Iran, tweeting "Lebanon=Hezbollah. Hezbollah=Iran. Lebanon=Iran. Iran is a danger to the world. Saad Hariri proved this today. Period."
"You just heard the resigning prime minister of Lebanon, Hariri, say Hezbollah took over, which means that Iran took over. This is a wake-up call for everyone. It says what the Middle East is really experiencing, it is experiencing the attempt of Iran to conquer the Middle East, to dominate and subjugate it. When Israelis and the Arabs, all the Arabs and the Israelis, agree on one thing, people should pay attention. We should stop this Iranian takeover," Netanyahu said in an interview with the BBC Sunday morning.
Iran is also operating in Syria and wants to colonize it, Netanyahu said, vowing that Israel would not let this happen.
"They want to bring their airfare there. They want to bring Shi'ite and Iranian forces next to Israel, we will not let that happen. We will resist it," he said.
Netanyahu, however, sidestepped the BBC question of whether Israel was prepared to go to war over this issue. Hariri announced his resignation during a trip to Saudi Arabia on Saturday, citing threats on his life and Iran's "grip" on Lebanon. In a bitter tirade, Hariri accused Iran and Hezbollah of what he called their meddling in Arab affairs.
"The evil that Iran spreads in the region will backfire on it. Iran has a grip on the fate of the region's countries… Hezbollah is Iran's arm not just in Lebanon but in other Arab countries too," he said. "In recent years, Hezbollah has used the power of its weapons to impose a fait accompli," Hariri said, accusing Tehran of spreading chaos, strife and destruction throughout the region.
Iran later claimed the U.S. and Saudi Arabia orchestrated the resignation in order to sow regional chaos. Netanyahu's remarks on Hariri's resignation came a day after he warned the threat posed by the Islamic Republic to its Middle Eastern neighbors was driving them into hitherto unthinkable alliances with the Jewish state.
"Iran is devouring one nation after the other. It is doing so either by direct conquest or by using proxy. They took over Lebanon, Yemen… they try to do the same thing with Iraq, in Syria. The good news is that the other guys are getting together with Israel as never before. It is something that I would have never expected in my lifetime," Netanyahu said Friday at Chatham House, the Royal Institute of International Affairs think-tank in London.
He said Israel was working "very hard" to establish an effective alliance with "the modern Sunni states" to condemn and counter Iranian aggression.
"I think that actually has a great promise of peace" for the region, he said.
Iran had come into the Syrian war "to Lebanon-ize Syria economically and militarily," he said. But Israel, he vowed, would not let Iran come to dominate Syria.
"They want to leave their army, their airbases, and fighter aircraft within seconds of Israel and we are not going to let that happen. We do not say that lightly. We mean what we say and we back it with action."
Netanyahu said the Middle East was witnessing "the emergence of a battle between the Islamists and the modernists," provoking a "new alliance between Israel and Islamic states." Israel has long viewed Iran as its number one enemy, while Sunni Arab nations such as Saudi Arabia are regional rivals of the Shi'ite country.