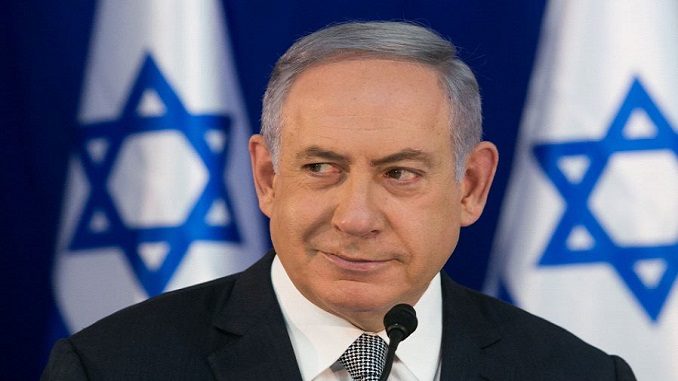 Israeli Prime Minister Benjamin Netanyahu has stated that Iran would be "infinitely more dangerous" than North Korea if it develops nuclear weapons, pointing to country's aim for "world domination."
Netanyahu, held a speech at the Chatham House think-tank in London, where he pointed to Iran's support of Hezbollah in Lebanon, the Houthis in Yemen and Shi'ite militias in Iraq.
"The one potent force in militant Islam that has emerged is Iran. And it is devouring one nation after the other. It is doing so either by direct conflict, or more usually by using proxies," Netanyahu said. "The good news is that the other guys are getting together with Israel as never before."
Netanyahu then illustrated Iran's apparent plan for a so-called Shi'ite crescent extending to Israel's borders, showing a large map behind the stage at Chatham House.
"They have actually a conception of world domination that should have gone out the window with the last religious wars," he said. "There's something … irrational and dangerous in such a cause." Netanyahu also claimed that a "new alliance" has emerged between his country and the Sunni Arab states to combat an "irrational and dangerous" Iran. Large portion of the Arab states does not have formal diplomatic relations with Israel, but the prime minister said relations have been growing stronger due to the perceived threat from Tehran.
"There is something that I wouldn't have expected in my lifetime, but we are working very hard to establish, and that is an affective alliance between Israel and the moderate Sunni states to (combat) the aggression from Iran," he told the audience in London.
"The new alliance between Israel and the Sunni states is not dependent on peace with Palestinians, but could lead to it," Netanyahu said. He described the shift in Arab-Israeli relations as "dramatic," adding that "attitudes to Israel are mellowing considerably" in the Arabian Gulf amid heightened tensions with Tehran. Saudi Arabia, the UAE and Bahrain have all blamed Iran of interfering in other countries' affairs and all of them see Iran as the largest state sponsor of terrorism.
"When Arabs and Israelis are saying the same thing, it's worth paying attention to it," Netanyahu stated.
Netanyahu's speech came a day after he joined his British counterpart Theresa May at a dinner celebrating the Balfour Declaration of 1917. The controversial document offered Britain's support for "the establishment in Palestine of a national home for the Jewish people." Netanyahu said on Friday he hoped a U.S. peace initiative on the Israeli-Palestinian conflict will work. Asked if he felt now was the moment for peace in the region, noting U.S. President Donald Trump's involvement in peace efforts, he said: "Hope so."
"What's being discussed now is an American initiative. Obviously we make our interests and our concerns known to Mr.Trump. He's coming with a sort of refreshing 'can-do' … they're trying to think out of the box," Netanyahu stated.