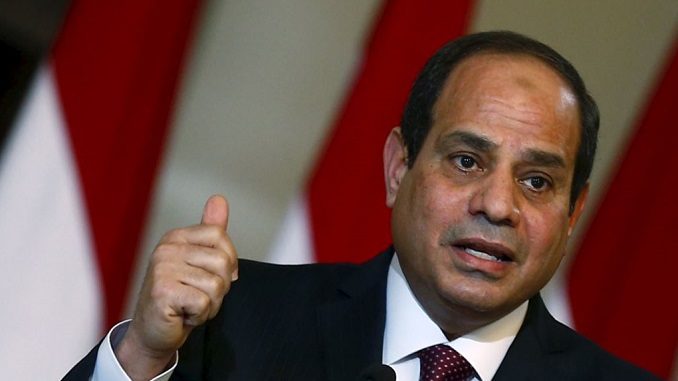 Egyptian President Abdel Fattah al-Sisi has said he supports Saudi Arabia in the standoff with Iran, saying that Iran must stop "meddling" in the Middle East and the security of Arab Gulf countries must not be threatened, but he does not want to see the tensions turn into an open military confrontation between the two rivals, RFERL reports.
"We support our [Saudi] brothers," Sisi said at a meeting with journalists in Sharm el-Sheikh on November 8, stressing the importance of de-escalating tensions between the two regional powers.
Asked about the prospect of attacks on Iran and Hezbollah – two days after Saudi Arabia had accused Lebanon of declaring war because of Hezbollah's "aggressive actions", Sisi stressed the importance of de-escalation.
"I am not for war. We can resolve crises with dialogue. The region has enough instability and challenges as it is. We don't need any new complications involving Iran or Hezbollah," he said, referring to Tehran's ally in Syria and Lebanon.
But, he added, "Gulf security is a red line and others must stop meddling in our affairs and not work to escalate tensions. We in Egypt believe that Arab and Gulf security and any threat to Gulf (Arab) nations is a threat to our own national security."
Sunni powerhouse Saudi Arabia called for sanctions against Hezbollah this week and accused Iran of supplying Yemen's Houthis with missiles used to target it.
"I have said it once and I will say it again, Gulf national security is Egyptian national security. I have faith in the wise and firm leadership of Saudi Arabia," Sisi said.
Sisi stressed his backing of Saudi Arabia and other Gulf Arab states, which have showered Egypt with aid ever since the general-turned-president led the military's ouster of former President Mohamed Mursi of the Muslim Brotherhood in 2013 following mass protests. He said the situation in the kingdom was "reassuring and stable" following last weekend's arrests of 11 princes, former and current ministers, and a group of elite businessmen on corruption allegations. They face allegations of money laundering, bribery, extortion and exploiting public office for personal gain.
His comments reflected the recent hardening of Egypt's public rhetoric on Shiite and non-Arab Iran, a shift that matches Cairo's close ties with Saudi Arabia, the United Arab Emirates and Bahrain — Sunni-led countries that see Iran as an existential threat. However, Sissi would not say whether Iran has become an outright enemy of his country.
He said arms purchases worth billions of dollars concluded by Egypt since he took office in 2014 were needed in response to what he called a "strategic imbalance" in the region since the area was jolted by Arab Spring revolts that have since 2010 engulfed Tunisia, Egypt, Yemen and Syria.
Egypt has since 2014 purchased Rafale fighter jets and helicopter carriers from France, MiG-29 fighter jets and assault helicopters from Russia and submarines from Germany. Moreover, Egypt receives $1.3 billion in annual U.S. aid.
Lebanon has been thrust to the center of regional rivalry between Saudi Arabia and Iran since the Saudi-allied Lebanese politician Saad al-Hariri quit as prime minister on Saturday, blaming Iran and Hezbollah in his resignation speech. Hezbollah is both a military and a political organization that is represented in the Lebanese parliament and in the Hariri-led coalition government formed last year.
Its powerful guerrilla army is widely seen as stronger than the Lebanese army, and has played a major role in the war in neighboring Syria, another theater of Saudi-Iranian rivalry where Hezbollah has fought in support of the Syrian government.