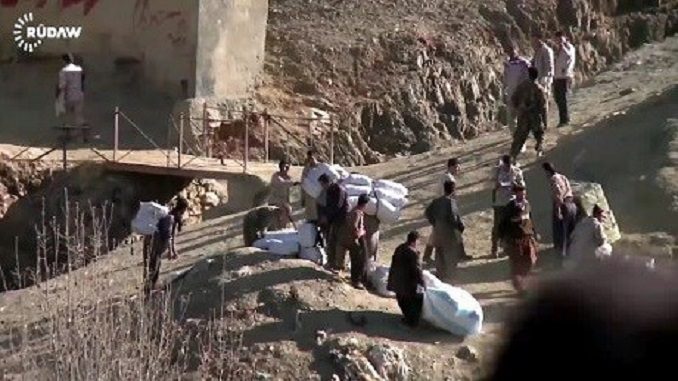 Following Iran's decision to close its borders with the Kurdistan Region in late September, some Kurds in Iran who used to work at the official borders have turned to the often dangerous paths of smuggling.
The smugglers, semi-legal cross-border porters known locally as kolbars, climb the mountains on the border, facing the dangers of live fire from the border guards and mine fields. Some of those interviewed by Rudaw say the border closure pushed them to turn to smuggling.
"It's been two months that the border has been closed. None of us could have earned 100,000 toman ($28) for his family since then. Those who want to have a source of living, like me, will come to this mountain to work. They come to this place to smuggle goods. This will expose us to being killed, freezing and many other things," a kolbar told Rudaw.
They mostly smuggle alcohol and cigarettes into Iran, items banned under the Islamic laws of the Iranian government. Trading these items in Iran can result in a three-year prison sentence and a $28.00 fine.
Border guards have standing orders to shoot any of these kolbars on sight if they refuse to surrender. About 165 kolbars have been killed in 2017 and 150 injured. They receive $30 for each box they carry across the border, over a dangerous path where winter temperatures drop below zero.
"I don't know whether or not I can make it across the border or if I will be killed," another kolbar said.
For those who use horses to smuggle items, the path is even more difficult. They have to cross the border at night because they are an easier target in the daylight
"If there were 500 horses two months ago before the borders closed, it is now possible that there are 1,000. If the people are pushed to go hungry, they are then forced to come to the mountains. People here who lose their goods or whose horses are shot dead are very angry," said a kolbar who owns a horse.
Out of three official border crossings between the Kurdistan Region and Iran, only one is currently open. Meanwhile, clashes have continued between Iranian regime forces and Kurds in western Iran's Kurdish areas near the border with Turkey. Three "Kurdish traders," locally known as kolbars, were shot by the Iranian regime in Urmia Province, the Kurdish Hawar News agency reported on Tuesday.
Additionally, Hawar reported traders were fired upon in Kaiman Bahurman village. One was wounded, while others were arrested and had their goods seized. In Zanjan province, a Kurdish trader from Suqis was seriously wounded, according to Hawar, while carrying goods.
The reports of violence come after Iranian Foreign Ministry spokesman Bahram Qassemi said acccording to the country's semi-official Fars News on Monday that an Iranian border guard was killed and four others were injured in Maku, Iran, near the border with Turkey. Turkey claimed the attack was conducted by forces from the Kurdistan Workers' Party (PKK).
"PKK terrorists were behind the incident in which several other people were also injured," Turkish Foreign Minister Mevlut Cavusoglu said in a phone conversation with his Iranian counterpart Mohammad Javad Zarif on Monday, as reported by Fars and Turkey's Daily Sabah media.
Daily Sabah also blamed the Kurdistan Free Life Party (PJAK), the Iranian wing of the PKK.
"The survivors sought help from the Turkish side and the injured were airlifted to hospitals here. A soldier succumbed to his wounds at the hospital. Others are recovering from their injuries," reported Daily Sabah.
The Turkish media agency reported the injured included "engineers working on an irrigation project" and "soldiers were providing security." Several armed Kurdish groups are active in the mountainous border region between Turkey, Iran, and the Kurdistan Region.