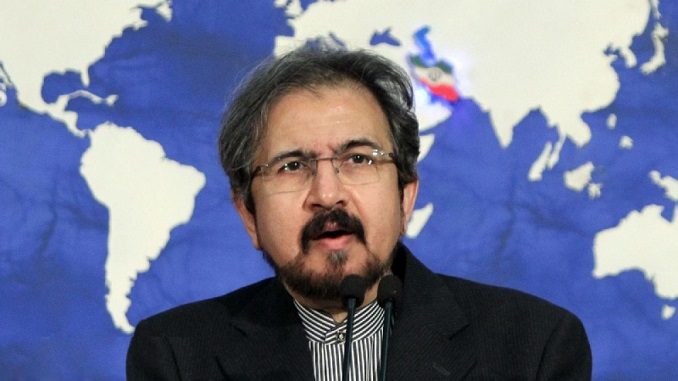 Iran's foreign ministry denied on Wednesday U.S. accusations that the Islamic Republic is playing a destabilizing role in the region, state media reported as reported by Reuters.
U.S. Secretary of State Rex Tillerson had said on Tuesday that Iran is carrying out "destabilizing actions" by supporting Hezbollah in Lebanon, supplying missiles to Houthi forces in Yemen and sending weapons and militia fighters to Syria.
"Repeating the groundless accusations and lies will not help solve the large and strategic mistakes America has made in recent decades against Iran and the region. While there's time remaining, Mr. Tillerson should become more familiar with the realities and history of the region and American policies, and its effects which has led to serious instability and the deaths of hundreds of thousands of innocent women, children and people," foreign ministry spokesman Bahram Qassemi was quoted as saying by state media.
Qassemi says Tillerson's latest remarks against Iran show that the U.S. is angry at Iran just because it is fighting terrorism. He said that "repeating false allegations by the U.S. officials will not compensate for the strategic mistakes made by the United States towards Iran and the region over the past decades. Accusing other countries will not treat the deep and old wounds caused by the U.S. aggressive policies."
"Mr. Tillerson had better see the realities and study the region's history and the U.S. wrong policies and their catastrophic consequences for the people of the region. Then, he can make any other remarks like those. Iran itself is one of the victims of U.S. interventionist policies, coup d'etat and tyranny carried out by U.S. Today, everybody knows that Iran has made great efforts in the fight against terrorism so far. No doubt, ignoring Iran's undeniable fight against terrorism and expressing false accusation are only the result of the U.S. anger with humanitarian and stabilizing role played by Iran, and only indicate U.S. support for terrorism in the region," Qassemi said.
The Foreign Ministry Spokesman concluded that " within the framework of all ethical standards and considering all the norms defined by the international community, Iran will continue supporting stability and security in the region and fighting against terrorism despite false accusations."
Tillerson also said during a visit to Brussels on Tuesday that Iran must comply with the terms of the 2015 nuclear deal under which the Islamic Republic agreed to curb its nuclear program in exchange for the lifting of a number of sanctions.
Speaking at a joint press conference with the European Union (EU)'s foreign policy chief Federica Mogherini in Brussels on Tuesday, Tillerson accused Iran of carrying out a number of "destabilizing actions in the region."
"These issues and activities of Iran cannot be ignored and cannot go unanswered, and we intend to continue to take action to ensure Iran understands this is not acceptable to us, and we look forward to working with European partners in that regard as well," he said.
U.S. President Donald Trump dealt a blow to the pact in October by refusing to certify that Tehran was complying with the accord even though international inspectors said it was.
Similar accusations have been made by Iran's neighbours in recent years. On Tuesday, the exiled son of Yemen's former president Ali Abdullah Saleh called on loyalists to "take back Yemen from the Iranian Houthi militias," after the killing of the heavyweight politician.
"I will lead the battle until the last Houthi is thrown out of Yemen… the blood of my father will be hell ringing in the ears of Iran," Ahmed Ali Saleh said.
Similarly, Lebanese Prime Minister Saad Hariri also noted Iran's meddling in Lebanon during an unprecedented resignation speech from Riyadh last month, which has since been revoked. Despite publicly supporting both Houthi rebels and Hizballah, Iran has continuously denied accusations of meddling.