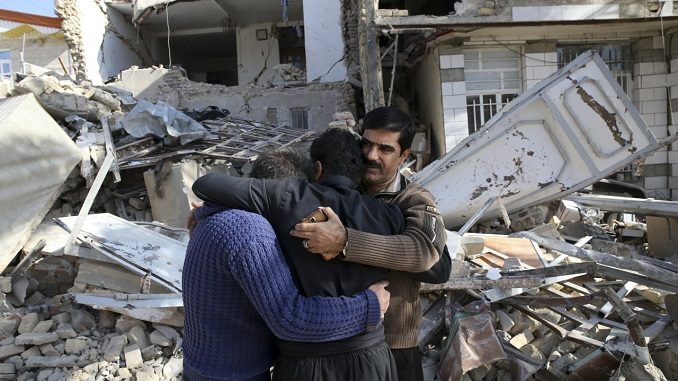 Criticism of U.S. sanctions on Iran rekindled Thursday over Iranian-Americans abroad being unable to send money directly to aid those affected by a powerful earthquake that killed over 530 people as doctors worked to help the injured, The Washington Post reports.
While the 2015 nuclear deal lifted some sanctions, others dating back as far as the days after the 1979 U.S. Embassy takeover in Tehran still stand, including those that prohibit the some 1 million Iranian-Americans from directly sending cash to Iran. The state-run IRNA news agency, as well as other media, published articles criticizing the rules.
"Despite all the difficulties, the Iranians living in the U.S. are doing their best to devise innovative solutions to send their humanitarian supplies to the quake-hit areas in western Iran," IRNA said in its report.
While the 2015 nuclear deal with world powers lifted some sanctions in exchange for Iran limiting its uranium enrichment, others that date as far back as the days after the 1979 U.S. Embassy takeover still stand. Direct bank transfers from America to Iran remain prohibited. Other prohibitions also remain in place, though the U.S. has in the past temporarily lifted them in response to disasters. Iran's Foreign Minister Mohammad Javad Zarif said earlier this week that his country does not need foreign help for the quake and it is capable of managing the aftermath on its own.
However, the Washington-based National Iranian American Council has offered suggestions about how to donate. It also urged the U.S. Treasury "to closely examine whether additional steps are needed to ensure that Americans can effectively contribute to relief efforts, and to issue any additional licenses necessary to ensure that U.S. sanctions do not stand in the way of urgent relief."
The U.S. Treasury did not immediately respond to a request for comment Thursday. However, it has lifted some sanctions in the past to help with Iranian earthquake relief, most notably in 2003 when a magnitude 6.6 earthquake killed 26,000 people in Bam.
The U.S. comprehensive trade embargo with Iran prohibits Americans from sending funds directly to Iranian charities without a license from the Department of Treasury's Office of Foreign Assets Control (OFAC). Americans are also forbidden from sending funds directly to any non-U.S. charity if those funds are specifically intended to be used for relief efforts in Iran.
This means that things like Facebook fundraisers by private citizens seeking to collect donations for the victims are technically prohibited. And so are donations by Americans to such groups as the International Committee of the Red Cross (ICRC) are technically prohibited. Tyler Cullis, an associate attorney at Ferrari & Associates P.C. who specializes in U.S. economic sanctions, told ThinkProgress that thousands of people have already donated to the ICRC in the days following the quake.
"Those organizations have a much better presence on the ground than U.S. NGOs [non-governmental organizations]. Given the high number of donations OFAC will likely ignore the sanctions violations," Cullis said.
But a few organizations have been given special licenses to operate in Iran and take dollars from Americans. U.S. law allows donations to U.S. NGOs that deliver humanitarian services to Iran, but fear of sanctions violations can also complicate those transactions. If a U.S. NGO is operating under an appropriate OFAC license, there are very few U.S. banks that are willing to take the risk in processing the donations. This slows the relief process down considerably, forcing many NGOs to hand carry cash to Iran.
"General License E (GL E), issued by OFAC in 2013, authorizes nongovernmental organizations to export services to Iran in support of the provision of relief services related to natural disasters, the provision of donated health-related services, and the distribution of donated articles (such as food, clothing, and medicine) intended to be used to relieve human suffering in Iran" U.S. Virtual Embassy Iran reported.
Furthermore, according to OFAC's statement, "In addition, GL E authorizes transfers of up to $500,000 per 12-month period in support of these activities, subject to certain conditions."
However, OFAC has noted, "Donations of food, clothing, and medicine, when intended to be used to relieve human suffering, are exempt from the sanctions on trade between the United States and Iran, as long as the donations are not being sent to the Government of Iran or any Iranian individual or entity on the List of Specially Designated Nationals and Blocked Persons (SDN List)."
As Iran struggles to cope, Iranians have rallied together to raise funds and supplies. Several countries in the region have also offered humanitarian assistance, including Turkey and Israel. According to the Israeli government, however, Iran immediately rejected Israel's offer.