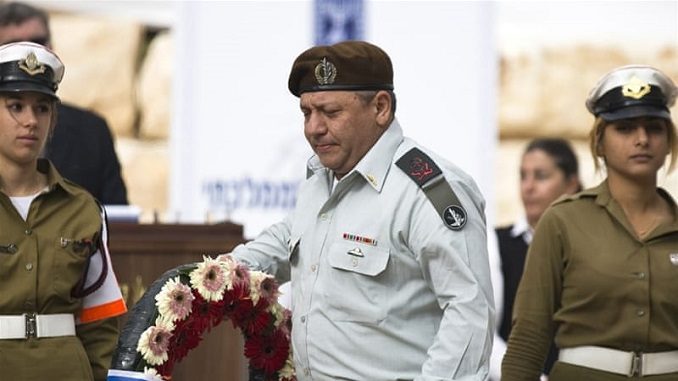 A Saudi Arabian newspaper has published an interview with the Israeli army's chief of staff for the first time, revealing the new alignment in the two former enemies' international policies. Lieutenant-General Gadi Eisenkot said that Israel was willing to share intelligence with "moderate" Arab states, to further their shared goal of countering Iran.
"We are willing to share information if there is a need. We have many shared interests between us. Under U.S. President Donald Trump there is an opportunity to form a new international alliance in the region. We need to carry out a large, comprehensive strategic plan to stop the Iranian threat," he told the online newspaper Elaph.
General Eisenkot's intervention comes at a dramatic but confusing time in Saudi and regional politics, in which Israel's response is expected to be key.  According to the chief of staff, the expansion of Iranian influence across the Middle East is a major concern to both Israel and Saudi Arabia.
"The Iranian plan is to control the Middle East by means of two Shi'ite crescents," Eisenkot told Elaph, "the first being from Iran through Iraq to Syria and Lebanon and the second across the Gulf from Bahrain to Yemen to the Red Sea. We must stop that from happening."
Eisenkot, who met in October with military leaders from around the globe at the chiefs of staff in Washington, told Elaph that what he heard from the Saudi representative about Iranian expansion was "identical" to Israeli concerns.
"This is what should be prevented in the region," he said, adding, "In this matter, there is complete agreement between us and Saudi Arabia."
The remarks, confirmed in a transcript provided by the Israeli military, reflect the two countries' increasing alignment over what they see is a rising threat posed by Iran to the region, especially as the war in Syria winds down. Israel frequently speaks of discrete ties and common interests with moderate Arab states.
While Tehran's nuclear program has been temporarily frozen, there is little doubt about the country's intention to acquire nuclear capabilities. Tehran is not only providing arms to terrorist groups such as Hezbollah in Lebanon, the Houthis in Yemen and Islamic Jihad in Gaza but is also transferring expertise, building weapons factories, supplying advanced weapons and investing huge sums in the various militias.
In September, a senior IDF officer stated that the Islamic Republic provides some $60 million to $70 million a year to Hamas in the Gaza Strip, plus hundreds of millions of dollars more for their militias in Syria and Iraq and Houthi rebels in Yemen fighting pro-government forces backed by a Saudi- led coalition. Tehran has also increased its financial support for its Lebanese proxy Hezbollah to $800 million a year, a dramatic boost from the annual $200 million it used to provide the group.
According to IDF assessments, while Hezbollah has increased its military capabilities due to its fighting in Syria, the group has spread its troops across the entire Middle East and is hurting financially.
"I see Hezbollah beginning to feel financial pressure. We are also seeing a drop in support for Hezbollah and that is reverberating on the streets where we have seen demonstrations in Dahiya. That's something we have not seen before," Eisenkot said, referring to Hezbollah's stronghold in southern Beirut.
Hezbollah, one of the world's most prominent terrorist organizations, has become bogged down fighting in Syria for President Bashar al-Assad. Of its approximately 22,000 fighters, about 7,000 are fighting for the Assad regime. Some 2,000 have been killed in the four years the group has been in Syria. Last week, Hezbollah Secretary- General Hassan Nasrallah accused Saudi Arabia of having appealed to Israel to launch an attack against the group in Lebanon, offering the Jewish state "billions of dollars" to do so.
"It is very reprehensible and shameful for a Muslim country in the region to beg the Zionist regime to bomb the people of Lebanon," Iranian President Hassan Rouhani was quoted by Press TV as saying on Wednesday.
"It is unprecedented in history for a Muslim country to take such measures, and this indicates the immaturity of the individuals who have come to power in those countries," Rouhani added.
Eisenkot told Elaph that while Israel has no intention of initiating a war with Hezbollah in Lebanon, Jerusalem will not accept any strategic threats that the Iranian-backed terrorist group might pose to it.
On Friday, the BBC news agency reported that Iran had established a military base at a Syrian army site south of the capital of Damascus. According to the report, which is based on a western intelligence source, the Iranian base is some 50 km north of Israel's Golan Heights and has several buildings which likely house soldiers and military vehicles.
Following the report, an Israeli Eros-B satellite photographed the region, outside the town of Al-Kiswah, and found that recent renovations to the facility, which is close to an old Syrian-regime army base, showed new buildings which could be suitable for mosques and barracks.
He added that he was hopeful regarding Trump's declarations about the need to stop Iran's missile program and the entrenchment of its troops and militias in Syria and Iraq.
"Our demand is that Iran, Hezbollah, and other Iranian militias leave Syria. We have said it publicly that we will not accept the Iranian position in Syria in general, and especially their position west of the Damascus-Suwayda Road. We will not allow any Iranian presence," Eisenkot said.